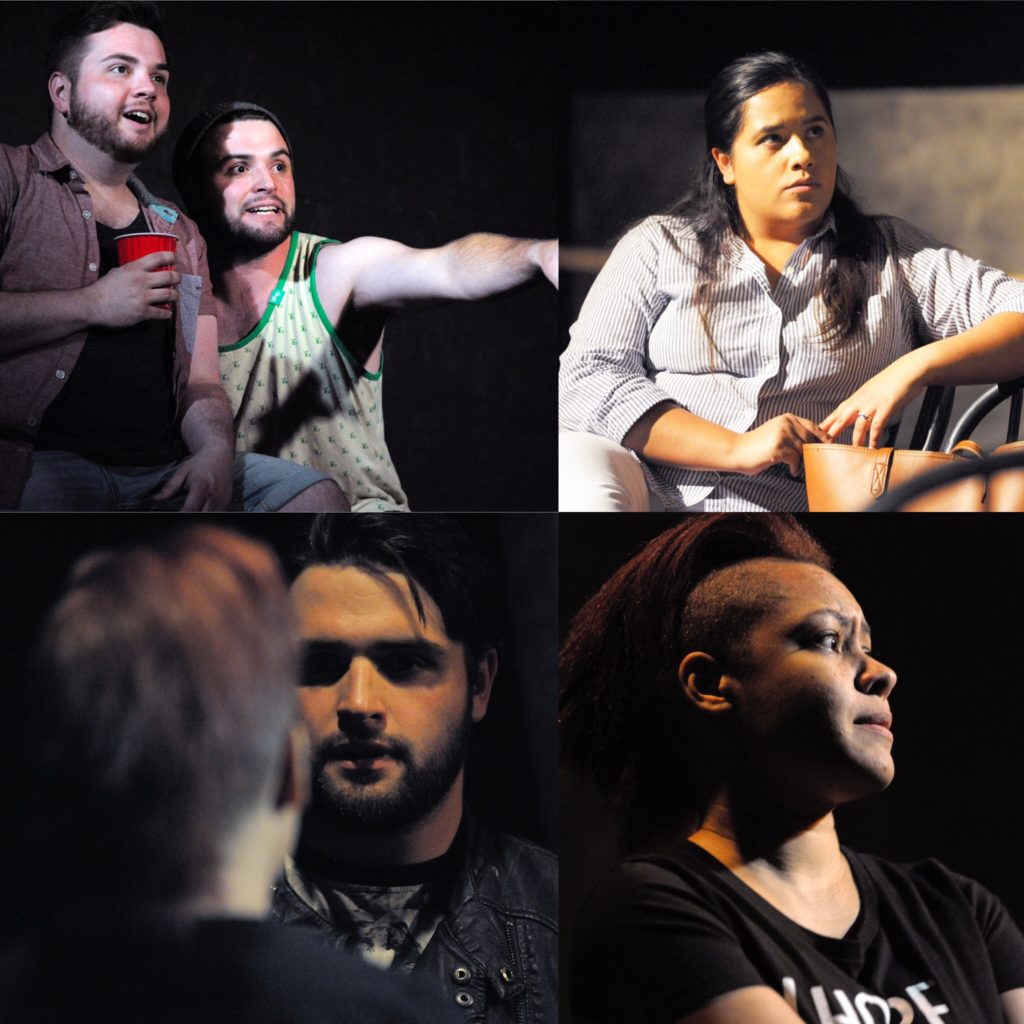 Sender
by Ike Holter
Presented with Legion Arts
August 22 – 24 2019
C Space | CSPS Hall
Sender will be performed without an intermission
Cast
"Jordan" – Mic Evans
"Tess" – Jo Jordan
"Cassandra" – Olivia Lestrud
"Lynx" – John Miersen
Crew
Director – Cavan Hallman
Stage Manager – Jaime Hein
Lighting Design – Jim Vogt
Set Design – Doug Anderson
Costume Design- Noel VanDenBosch
Fight Director – K Michael Moore
Production Photography – Greg Billman
Mic Evans – "Jordan"
Mic Evans studied Theatre at the University of Northern Iowa before moving back to the Cedar Rapids area. Notable roles include Mark in RENT, Princeton in Avenue Q and The Baker in Into the Woods (UNI), Jordan in Significant Other and Dickon in The Secret Garden (Giving Tree), The Hunchback of Notre Dame as Quasimodo, Lord Lovelace in Ada and the Memory Engine and Crutchie in Newsies (TCR). Sender marks his Mirrorbox Theatre debut.
Special thanks to my amazing support systems and Mirrorbox for this incredible opportunity.
---
Jo Jordan- "Tess"
Jo Jordan is THRILLED to make her Mirrorbox Theatre debut. She has previously been seen in the following shows throughout the Corridor: Men on Boats (Seneca Howland), The Legend of Georgia McBride (Jo), Twelve Angry Men (Juror #4), Unnecessary Roughness (Wendy), Pride and Prejudice (Jane), Intimate Apparel (Esther), The Cake (Macy), Constellations (Marianne).
Jo would like to thank her ever supportive friends and family for making it possible to participate in these sorts of creative endeavors, and she promises the Food and Sleep Committee (her mom) that she is totally eating and sleeping regularly.
---
Olivia Lestrud – "Cassandra"
Olivia Lestrud is happy to be part of her second show with Mirrorbox Theatre. She has previously been seen in Exit Strategy (Jania), Conjure (Young Frida, Ophelia, Hive #3), Start Over (Skye), for colored girls/when the rainbow is enuf…(Lady in Orange), The Merchant of Venice (Prince of Arragon), Peer Gynt (Strange Passenger, Harem Girl), The Taming of the Shrew (Gremio), Three Sisters (Anfisa), Much Ado About Nothing (Margaret), The Winter's Tale (Ensemble). Olivia would like to thank the stupidly talented and kind cast and production crew of Sender.
---
John Miersen- "Lynx"
John Miersen can often be found on stage with Corridor theatre groups. Recent projects include Shakespeare in Love (Will Shakespeare), Cat On A Hot Tin Roof (Brick) and Next Fall (Luke). This is his Mirrorbox debut.
---
Ike Holter – Playwright
Ike Holter is a 2017 winner of the Windham-Campbell Prize, one of the highest awards for playwriting in the world. Holter is a resident playwright at Victory Gardens Theater, and has been commissioned by The Kennedy Center, The Eugene O'Neill Theater Center, South Coast Repertory and The Playwrights' Center. His work has been produced at the Steppenwolf Garage, The Philadelphia Theater Company, off-Broadway at Barrow Street Theatre and Cherry Lane Theatre, The Lily Tomlin Center in Los Angeles, True Colors in Atlanta, Forward Theater in Wisconsin, Water Tower Theater in Dallas, 3oaks in Michigan and Jackalope Theatre Company, Teatro Vista, A Red Orchid and The Inconvenience in Chicago. He is the artistic director of The Roustabouts and is a regular performer at Salonathon in Chicago.
---
Cavan Hallman – Director
Cavan Hallman's writing has been performed in NYC, New Orleans, Chicago, Ireland, on screen, and on tour. His touring educational plays, which he also directed, have been performed over 20,000 times for nearly 5 million students across the United States. Cavan directed the world premiere of the musical Pictures of Marilyn at the National WWII Museum, named one of the ten best musicals of 2016 by The New Orleans Times-Picayune.
He is the Founding Artistic Director of Mirrorbox Theatre, based in Cedar Rapids, where he has directed four Iowa premieres since 2018. Elsewhere in the Corridor, he has directed The Full Monty, The Girl Wonder (Underground), taught Scriptwriting, and served as a New Work Development Consultant at TCR; written and directed for Playtime Poppy's Summer Theatre Adventure; performed his solo show at RAYGUN, and worked as a writer and performer for SPT's "Tales From the Writer's Room."
In the summer of 2020, The Suffragist, his musical collaboration with Nancy Hill Cobb, will premiere at the Gallagher Bluedorn Performing Arts Center.
Cavan is a Resident Artist with The CRY HAVOC Company in New York City. He has an MFA in Playwriting from the University of New Orleans, for whom he has also taught writing and acting, both on campus and for their study abroad program in Ireland. Cavan is a proud husband and father.
---
Jaime Hein – Stage Manager
Jaime Hein is thrilled for the chance to work on this great show with this talented group of people. She has many credits on and off stage, including SM for the last two New Play Festivals, AD/SM for Dead Man's Cell Phone & The Bully Plays at TCR and ASM for Apples in Winter at Riverside Theatre. When not hanging around the theatre scene Jaime is working full time at ESP International and taking care of her favorite dog, Dudley. Jaime also serves as the Company Manager for Mirrorbox Theatre.
---
Jim Vogt – Lighting Design
Jim Vogt (Marietta College 2012) is a lighting designer, actor, singer, and theatrical technician in the Corridor area. He is excited to work on his seventh show here with Mirrorbox Theatre. Some favorite past productions include Vanya and Sonia and Masha and Spike (Spike), Footloose (Chuck/Lights), and Billy Bishop Goes to War (Lights). A big thanks to Mirrorbox Theatre for this opportunity, and lastly, thank you CL.
---
Noel VanDenBosch- Costume Design
Noel has been performing in the Corridor area since 2008, working with organizations including Riverside Theatre, TCR, Mirrorbox Theatre, City Circle and more. Occasionally she switches backstage to costume designing and set building. Acting credits include TCR: Aurora (Cindy); Intimate Apparel (Mrs. Van Buren); Vinegar Tom (Margery); Riverside Theatre: Henry IV pt 1 (Poins/Lady Mortimer); Mirrorbox Theatre: Bully (Simone); City Circle: Curious Incident… (Mrs. Gascoyne/Ensemble); Focal Theatre Lab: Orange Flower Water (Cathy). She would like to thank Cavan for the opportunity to collaborate again and KMM for all the love and delicious food.
---
Doug Anderson- Set Design
---
Greg Billman- Production Photography
---
Special Thanks
F. John Herbert, Mel Andringa, Dan Miller, Ben Beeson, Theatre Cedar Rapids, The Old Creamery, Joni Sackett, Katie Hallman, Omarr Hatcher
---
Thank You to Our Generous Donors
You make it possible for us to bring the best new plays to Cedar Rapids.
David Maier & Matthew McGrane
Craig & Kaitlin Byers
Philip Schramp
Katie Hallman
---
Our next production is Orange Julius by Basil Kreimendahl
November 14 – 16 at C Space
See you at the theatre!
---