Check this space regularly for updates on auditions, crew calls, submissions, and staffing.
We are looking for volunteers to usher and work box office for all upcoming shows. Ushers are given free admission to that evening's event and a discount at concessions and bar.
PERFORMANCE OPPORTUNITIES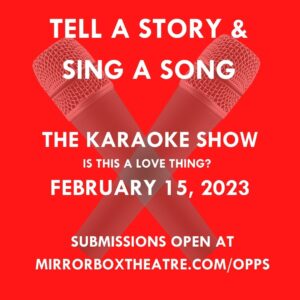 We are looking for featured performers for our upcoming installment of The Karaoke Show. The theme for this month's Karaoke Show -- Is This A Love Thing?
At The Karaoke Show, we will have a handful of featured performers present a monologue and karaoke song pair that fits our theme. Then, we have an open-mic karaoke party! Normally, tickets are $5, but as a featured performer, your entry is free!

To apply, please submit a photo of yourself having fun and a pitch for your story / monologue in 10 words or less.
Submissions are due January 18th, 2023. Please email submissions to cavan@mirrorboxtheatre.com.