Check this space regularly for updates on auditions, crew calls, submissions, and staffing.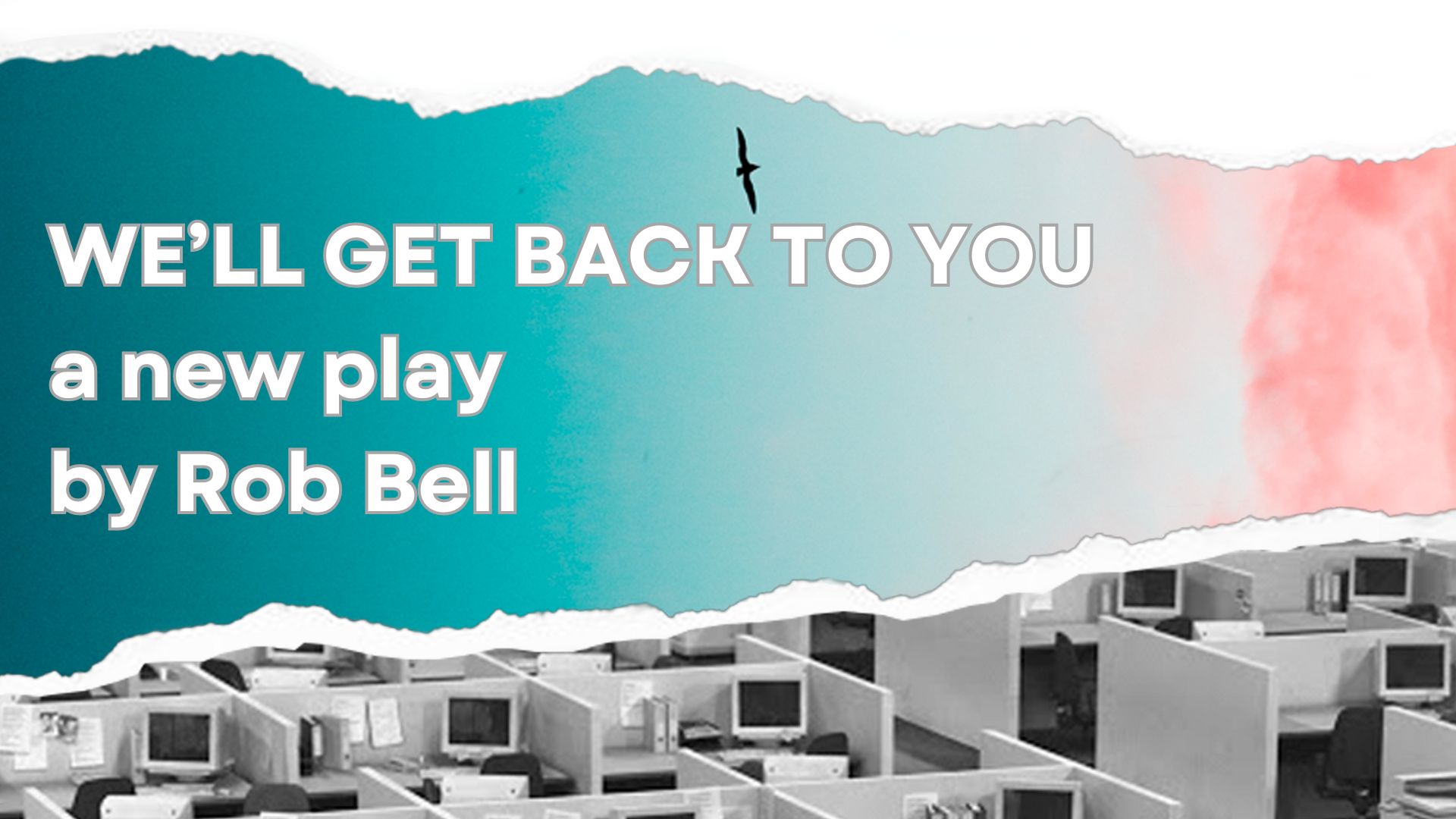 We are thrilled to announce a World Premiere production of "WE'LL GET BACK TO YOU" by Rob Bell and directed by Tony Award-nominee Kristin Hanggi.
Some details:
First rehearsal: March 11th
Tech begins: April 3rd
Opening Night: April 11th
Closing Night: May 5th
Possible extension in Iowa City May 15 - June 26.
Possible extension to other locations forthcoming.
We would need a self-tape of one or more of the sides attached by October 22, 11:59 pm Central.  Please send via unlisted YouTube link to [email protected]
Alternatively, we will have in-person audition taping on Monday, October 23, at Mirrorbox Theatre from 7 pm – 10 pm.  Please follow this link to reserve a time:
https://www.signupgenius.com/go/10C0F4AA5AA2FA3F9C34-44767459-well
We would be interested in your availability for the Iowa City extension, and your interest / availability for future extensions (as a possibility).
Seeking union and non-union performers.
Character breakdown:
VIVA
SHE'S THE GROUNDED AND MAGNETIC PRESENCE WHO HOLDS THE
WHOLE PLAY TOGETHER. SHE'S IN HER 40'S AND CONSTANTLY HAS YOU
WONDERING IS SHE COMPLETELY LOST OR THREE STEPS AHEAD?

CONNIE MCDOOGAGIN
SOMEWHERE IN HER 50'S, CONNIE HAS NO TIME FOR ANYTHING BUT THE
COLD AND EFFICIENT EXECUTION OF THE TASK AT HAND. ALL OF WHICH
HELPS HER KEEP ALL THAT HISTORY AND ALL THOSE FEELINGS FAR FROM
THE SURFACE.

CLAUDE HORST
OLD, TIRED, AND GRIEVING THE DEATH OF HIS WIFE, CLAUDE IS A TRUE
RADICAL. HE WAS THERE FROM THE BEGINNING, AND HE'S PAINFULLY
AWARE OF HOW FAR THE WHOLE PLACE HAS DRIFTED FROM ITS ORIGINS...
YUKOSA OKEEMOS
A ZEN-LIKE, ENIGMATIC PRESENCE, YUKOSA IS YOUNG AND PROFOUNDLY
AWARE OF HOW ENERGY AND LIFE FLOW IN AND AMONG PEOPLE AND
PLACES. SHE'S CAPTIVATED BY THE APPEARANCE OF VIVA, INTUITIVELY
GRASPING THAT A GREAT SHIFT IS IN THE WORKS.
GLENN STEVENS
A FATHER WITH A FAMILY HE ADORES, GLENN JUST WANTS TO WIN. HE'S
GOT THIS ACUTE ACHE BECAUSE HE DOESN'T KNOW HOW ANYMORE. BUT
NOTHING IS MORE TERRIFYING THAN ACKNOWLEDGING THAT, AND HE'S
BEGINNING TO WONDER IF HE'S EVEN PLAYING THE RIGHT GAME
The Rapids is a new improvised soap opera comedy that can only be found at Mirrorbox Theatre. In each monthly "episode," presented live on the Mirrorbox stage, greedy industrialists, horny lovers, corrupt politicians, and other big personalities keep getting into hilarious trouble based on audience suggestions. Watch every month as improvisers keep the drama alive in a funhouse version of our city.
Seeking (5) non-union performers for a three-show commitment, plus rehearsals. Previous improv experience (particularly long-form) is preferred, though not required.
All performers will receive one complimentary ticket to each performance (3 total).
All performers will receive a $75 honorarium at the completion of the three-show commitment.
Auditions will be held in a group setting due to the ensemble nature of the project. Please arrive to auditions on time, and expect to be present for the entirety of the audition, or until released.
The director is looking to see evidence of the following skills in ensemble members:
Collaboration & Adaptability - The core of any improv troupe is teamwork. Performers must work as a team, accepting, supporting and building upon each other's ideas and offers. Let go of individual agendas and focus on the collective goal of creating entertaining scenes all while supporting and validating the other performers on stage.
Character Creation - The Rapids will be populated with a large host of quirky and colorful characters. Performers must possess the ability to quickly establish specific and memorable characters with individual points of view, relationships, and goals. Performers may need to juggle multiple characters at the same time, across a wide range of ages and genders.
Storytelling Skills - As The Rapids will be a narrative improvisation, performers will need to have a strong understanding of storytelling principles and be able to maintain a cohesive narrative throughout their scenes and shows. That includes recognizing story beats, establishing objectives, building to conflict, calling-back, calling-forward, and finding resolutions.
Please note, Mirrorbox Theatre currently plans to present The Rapids on a monthly basis, with a rotating cast that commits for three episodes at a time. Those who are not cast for October-December performances are strongly encouraged to audition for future iterations (dates TBA)..
Creator: Cavan Hallman
Director: Zachary Johnson
Auditions: August 30, 2023 - 6:30 pm - 9:00 pm
Evening rehearsals: September 6 (attend episode #103 of The Rapids), two additional rehearsals TBD
Performances: October 11, November 8, December 13
Auditions and performances will take place at Mirrorbox Theatre, 1200 Ellis Blvd. NW, Cedar Rapids, IA, 52405.
Rehearsals will take place at Mirrorbox Theatre and/or 401 1st St. SE, Cedar Rapids, IA, 52401.
Mirrorbox Theatre is seeking submissions for the next installment the Local 10 - an event highlighting new short plays written and produced by local artists. Playwright/applicant must currently reside in Iowa. 
The Local 10 will perform Sunday, October 8, 2023. This will be a recurring program that will also have new plays presented on November 19.
Local 10 is a DIY event. There is no participation fee to have your play considered, but each playwright will be responsible for all aspects of production, including (but not limited to) finding rehearsal space, casting, and directing. The theatre, marketing, the box office, and basic tech (lights/sound) will be provided. We may be able to suggest actors and directors for certain pieces, but we make no guarantees about being able to staff your show. Group Auditions for October will be held at Mirrorbox Theatre on September 12, 2023 at 6:30 p.m. for all playwrights who want to participate.
Mirrorbox Theatre will provide a Stage Manager/Board Op that will be available for the (1) mandatory tech rehearsal that will be held on Saturday, October 7, 2023 from 11:00 a.m. to 2:00 p.m. - each play will have a designated 30 minute time slot which will be in the order of performance. 
The five selected plays will receive one performance as part of the Local 10 which will be held on Sunday, October 8, 2023 at 1:00 p.m. at Mirrorbox Theatre located at 1200 Ellis Blvd. NW, Cedar Rapids, Iowa 52405 before the matinee performance of the October GOLD program at 2:30 p.m.
Playwrights will be allowed to attend the performance where their play is being presented for free and they will receive (1) complimentary ticket for a guest to that performance. Any compensation for performers, directors, or other team members will be at the discretion of the playwright.
You may submit up to 2 plays for this submission period for the Local 10. No submission fee. Original works only have not been staged in Iowa. 
Submissions for the current period will be capped at (40). Any submissions received after the cap is reached will be automatically considered for the Local 10 inNovember.
Scripts must be no longer than 10 minutes in length to be considered for selection. The script is not required to conform to any specific format, however, readability may be a factor in selection. If you would like guidance on script formatting, multiple templates are available through the  Dramatists' Guild: https://www.dramatistsguild.com/script-formats 
To submit: send a PDF with "Local 10 - Play Submission" in the subject line to: [email protected].
The deadline for submissions to be considered for the Local 10 in October is midnight (CST) September 1, 2023 but we will continue with rolling submissions for November.
Playwrights will be notified on September 3 if their play has been selected for the Local 10 in October. Plays that have not been selected will be automatically considered for the Local 10 in November.

Mirrorbox is looking for volunteers to usher and work box office for all upcoming shows!
Volunteers are given free admission to that evening's event and a discount at concessions and bar.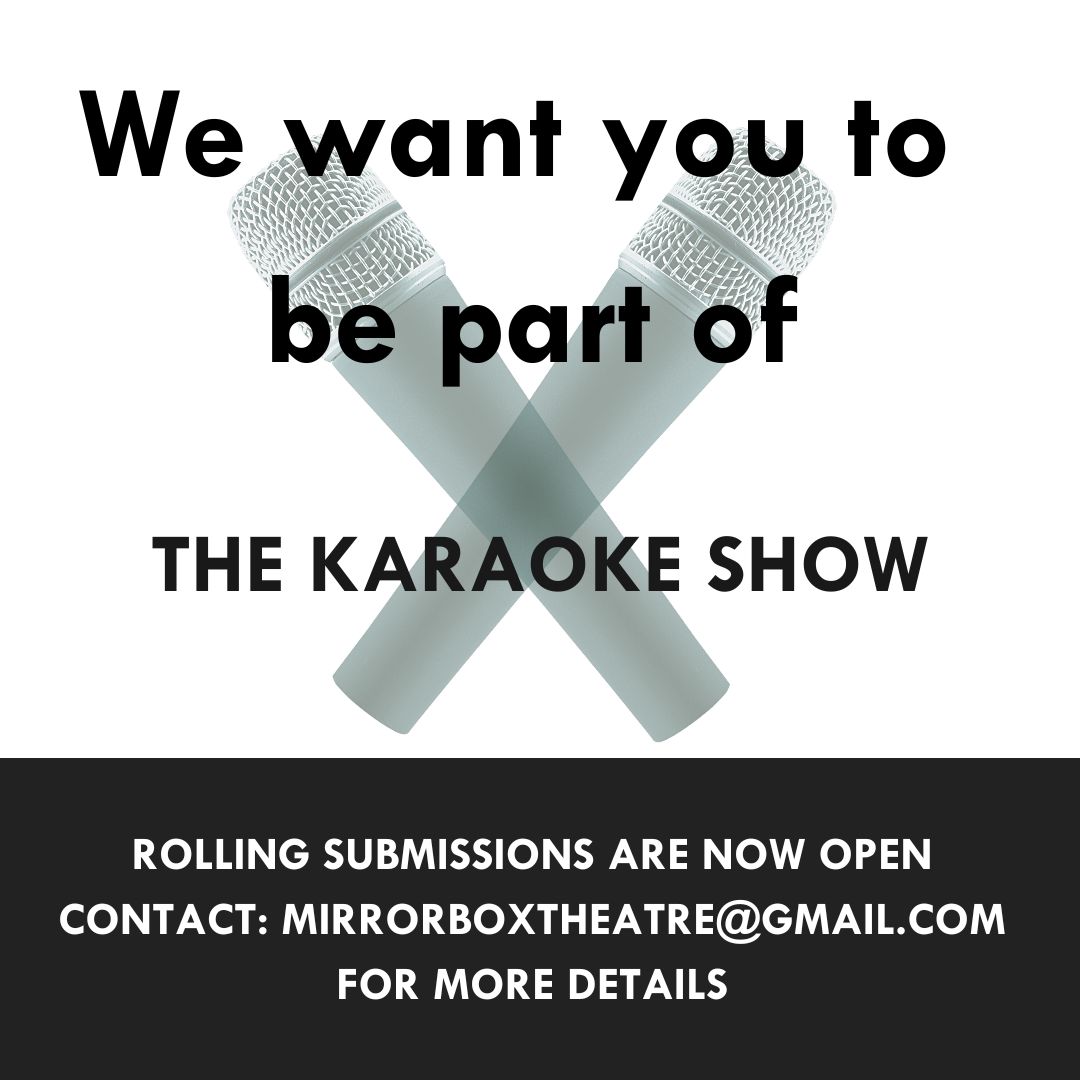 Applications to be a featured performer in The Karaoke Show are always open!
It's super easy to apply -- all we need is a picture of yourself having fun and a pitch for your 3-5 minute story in 10 words or less.
Send applications to [email protected].

Reach out to [email protected] for more information on current and upcoming stage management opportunities.