Check this space regularly for updates on auditions, crew calls, submissions, and staffing.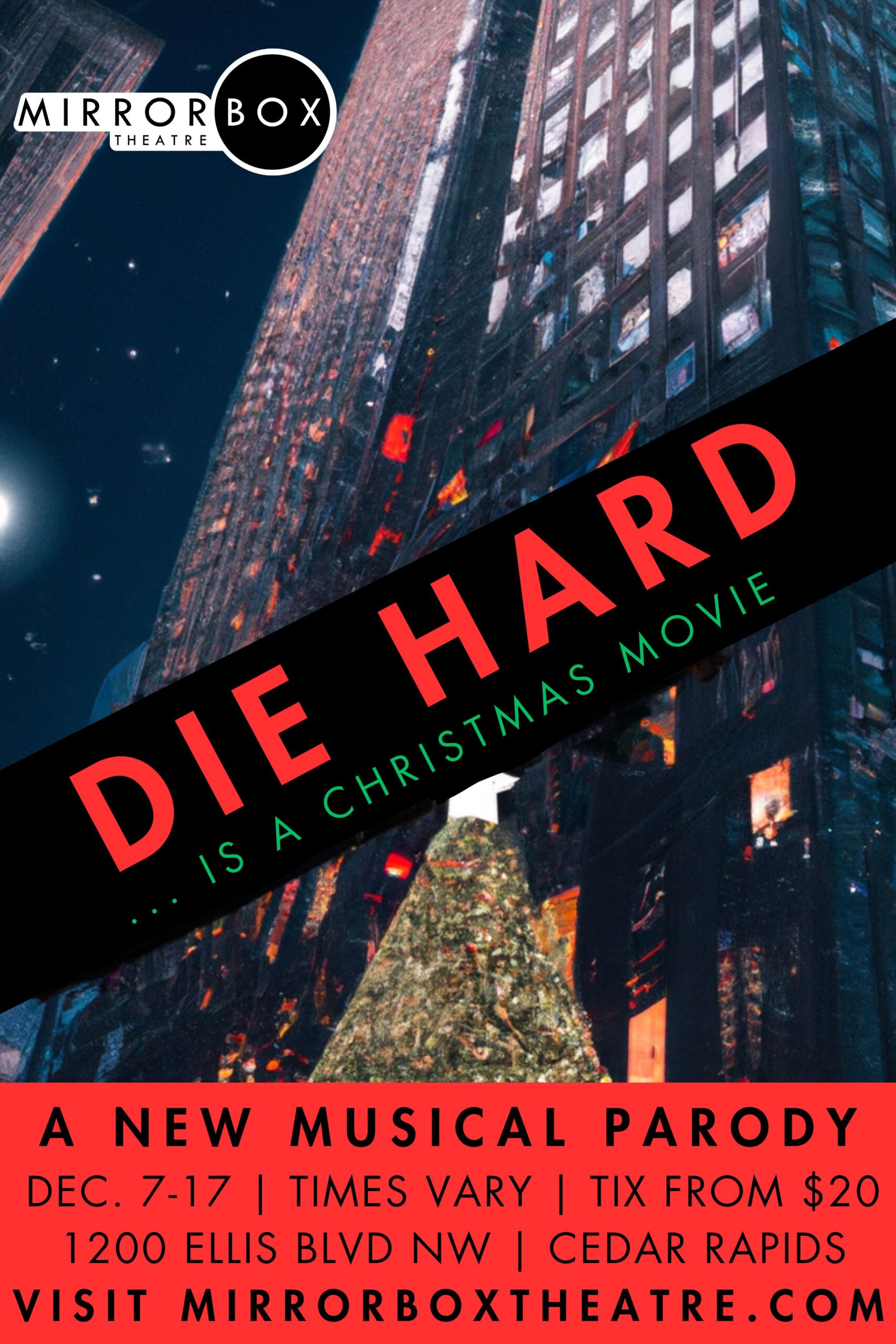 AUDITIONS THURSDAY, NOVEMBER 9, 7:00 PM
CURRENTLY SEEKING NON-UNION PERFORMERS
DIE HARD …is a Christmas movie
A new musical parody written and directed by Cavan Hallman.
Show Description: One of the greatest debates of our age will be settled once and for all in Mirrorbox Theatre's 2nd annual Holiday Fiasco, because DIE HARD …is a Christmas movie. In this world premiere parody musical, gruff cop John McClane leaves the friendly confines of NYC on Christmas Eve, only to be confronted by the three things that make him angriest: German terrorists, Los Angeles, and female empowerment.
This loving homage to everyone's favorite holiday shoot-'em-up features new twists on iconic dialogue, as well as songs in the style of classic Christmas tunes like "Let It Snow," "Little Drummer Boy," and Ludacris' "Area Codes." It is a show that must be seen to be believed! Definitely not kid-friendly! Leave your shoes at home!
Notes for Performers:
-Like last year's Batman Returns Returns, all songs will be sung without microphones over tracks played on house speakers. This is not your typical musical theatre experience. Think: karaoke. Seeking CONFIDENT singers, and BOLD movers. Perfection is not the name of the game in this Holiday Fiasco.
-Performers do not need to conform to the gender/race/body type/etc. of the performers in the original Die Hard. In other words – the spirit of John McClane is inside each and every one of us.
Seeking:
JOHN MCCLANE, gruff NYC cop
Songs in the style of "Little Drummer Boy," "Stuck In the Middle With You," and more.
JIMOTHY/ARGYLE, enthusiastic child narrator and even more enthusiastic limo driver
Raps. Definitely not played by a child. Songs in the style of "Christmas in Hollis."
HOLLY GENNARO/MRS. ANDERSON, go-getter business person
Songs in the style of "California Dreamin'," and more.
SGT. POWELL, loves Twinkies
Sympathetic ear for McClane. Songs in the style of "Little Drummer Boy" and more.
HANS GRUBER, exceptional thief
Suave. Has a beautiful British accent despite being German. Songs in the style of "Der Kommisar" and more.
THEO, brash computer hacker
Raps. Songs in the style of "Area Codes," and more.
ELLIS/ENSEMBLE, loves cocaine
Songs in the style of "Let It Snow," and more. Various additional roles.
DICK THORNBURG/ENSEMBLE, snooty journalist
His name is Dick. Various additional roles.
JOSEPH TAKAGI/ENSEMBLE, business tycoon
Songs in the style of "Merry Christmas, Happy Holidays (NSYNC)" and more. Various additional roles.
KARL, mercenary
But really… Karl's a dancer!
ADDITIONAL ENSEMBLE MEMBERS TO PLAY:
Marco, Uli, Tony, Pauline, Salesman, and more
----
Rehearsal evenings and weekends from NOV. 17 – DEC. 6. No rehearsals Wed. Nov. 22 – Sun. Nov. 26.
Some rehearsals to take place at Hach Building, downtown Cedar Rapids.
8 performances, Dec. 7 – 17. Thurs-Sat. at 7:30 pm, Sun 2:30 pm. Possible added Saturday matinees based on demand.
All performances at Mirrorbox Theatre, 1200 Ellis Blvd. NW, Cedar Rapids.
All performers will receive a $150 honorarium and 4 complimentary tickets.
----
Please prepare one verse and one chorus of a pop/rock/hip-hop song of your choice, to be performed a cappella. No accompaniment will be provided.
Audition sides will be provided.

Mirrorbox is looking for volunteers to usher and work box office for all upcoming shows!
Volunteers are given free admission to that evening's event and a discount at concessions and bar.
New signups posting soon!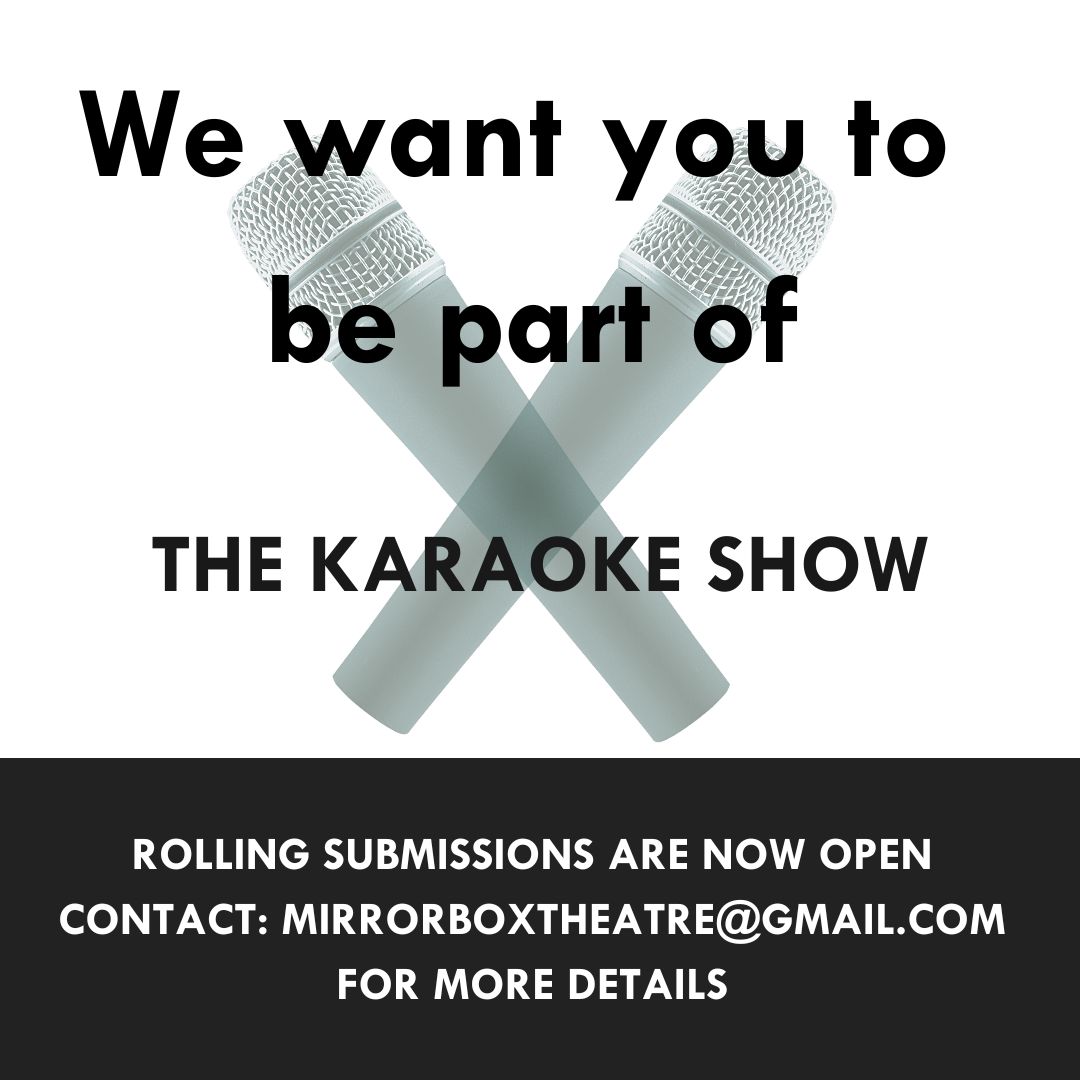 Applications to be a featured performer in The Karaoke Show are always open!
It's super easy to apply -- all we need is a picture of yourself having fun and a pitch for your 3-5 minute story in 10 words or less.
Send applications to [email protected].

Reach out to [email protected] for more information on current and upcoming stage management opportunities.