Check this space regularly for updates on auditions, crew calls, submissions, and staffing.
Mirrorbox is looking for volunteers to usher and work box office for all upcoming shows!
Volunteers are given free admission to that evening's event and a discount at concessions and bar.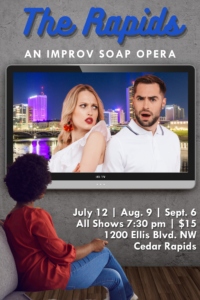 The Rapids is a new improvised soap opera comedy created by Cavan Hallman that can only be found at Mirrorbox Theatre. In each monthly "episode," presented live on the Mirrorbox stage, greedy industrialists, horny lovers, corrupt politicians, and other big personalities keep getting into hilarious trouble based on audience suggestions. Watch every month as improvisers keep the drama alive in a funhouse version of our city.
Mirrorbox Theatre is seeking (5) non-union performers for a three-show commitment, plus rehearsals. Previous improv experience (particularly long-form) is preferred, though not required.
All performers will receive a $75 honorarium at the completion of the three-show commitment and one complimentary ticket to each performance (3 total).
Auditions will be held in a group setting due to the ensemble nature of the project. Please arrive at auditions on time, and expect to be present for the entirety of the audition, or until released.
The director, Zachary Johnson is looking to see evidence of the following skills in ensemble members:
Collaboration & Adaptability - The core of any improv troupe is teamwork. Performers must work as a team, accepting, supporting and building upon each other's ideas and offers. Let go of individual agendas and focus on the collective goal of creating entertaining scenes all while supporting and validating the other performers on stage.
Character Creation - The Rapids will be populated with a large host of quirky and colorful characters. Performers must possess the ability to quickly establish specific and memorable characters with individual points of view, relationships, and goals. Performers may need to juggle multiple characters at the same time, across a wide range of ages and genders.
Storytelling Skills - As The Rapids will be a narrative improvisation, performers will need to have a strong understanding of storytelling principles and be able to maintain a cohesive narrative throughout their scenes and shows. That includes recognizing story beats, establishing objectives, building to conflict, calling-back, calling-forward, and finding resolutions.
Please note, Mirrorbox Theatre currently plans to present The Rapids on a monthly basis, with a rotating cast that commits for three episodes at a time. Those who are not cast for the July-September performances are strongly encouraged to audition for future iterations.
Auditions will be held on June 13 - 6:30 p.m. - 9:00 p.m.
Auditions and performances will take place at Mirrorbox Theatre, 1200 Ellis Blvd. NW, Cedar Rapids, IA 52405.
Evening rehearsals will be held on June 21, June 28, July 5, and July 11 at Mirrorbox Theatre and/or 401 1st St. SE, Cedar Rapids, IA 52401.
Performances are July 12, Aug. 9, and Sept. 6; all performances will start at 7:00 p.m., and performers will be called at 6:30 p.m.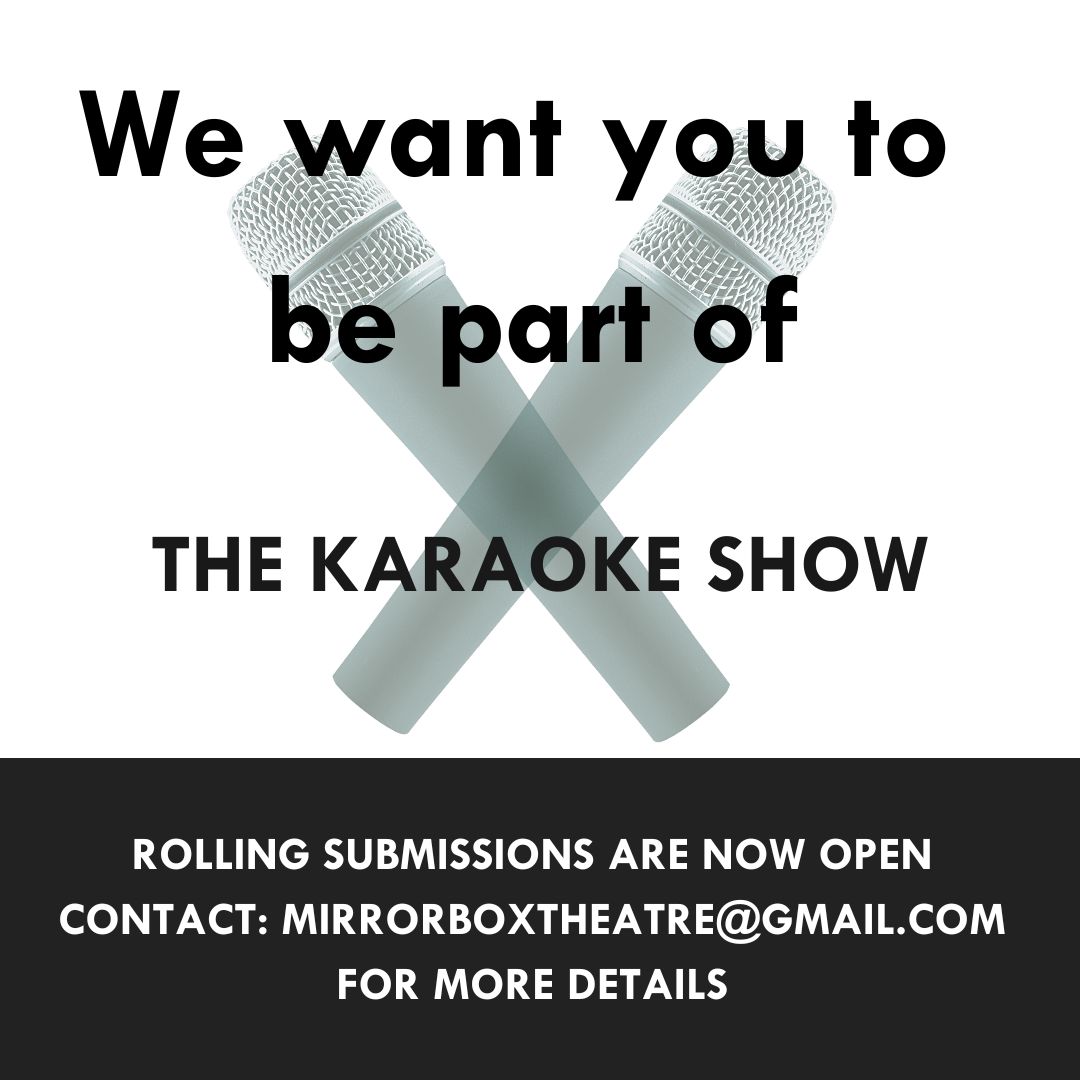 Applications to be a featured performer in The Karaoke Show are always open!
It's super easy to apply -- all we need is a picture of yourself having fun and a pitch for your 3-5 minute story in 10 words or less.
Send applications to mirrorboxtheatre@gmail.com.

The Rapids (A New Improvised Soap Opera Comedy)
Dates needed: 7/11-12, 8/9, and 9/6 (Dress Rehearsal + 3 Performances; 1 in July, 1 in August, and 1 in September). $50 honorarium provided. 1 comp ticket per performance (3 total) 7/12, 8/9, and 9/6 provided.
The Posthumous Trial of Giulia Tofana
Dates needed: 7/20 - 8/6. $175 honorarium provided. 2 total comp tickets for a performance(s) opening weekend provided.
Small Steps
Dates needed: 7/14 - 8/28. $250 honorarium provided. 4 total comp tickets for a performance(s) opening weekend provided.
Monsters of the American Cinema
Dates needed: 9/15-11/5. $250 honorarium provided. 4 total comp tickets for a performance(s) opening weekend provided.
Additional opportunities available for the GOLD Program and Local 10. Reach out to chelsea@mirrorboxtheatre.com for more information or to express interest in one of the above stage management opportunities.