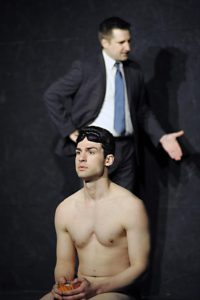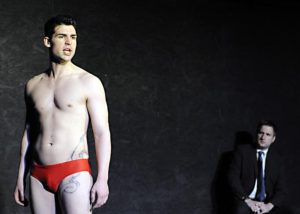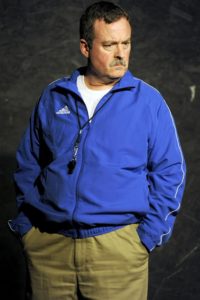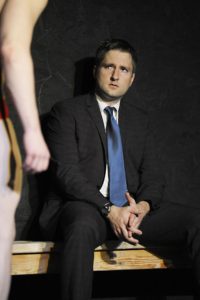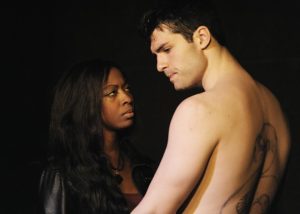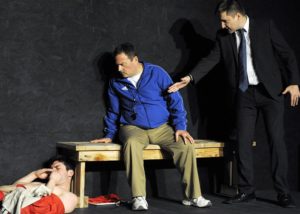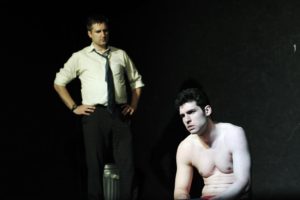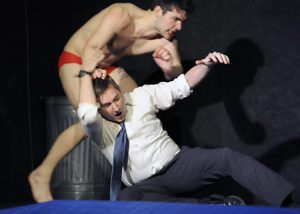 RED SPEEDO
by Lucas Hnath
Presented by Legion Arts
May 24 - 26, 2018
C Space  |  CSPS Hall
Produced by Special Arrangement
with Dramatists Play Service
Red Speedo will be performed with
one ten-minute intermission
Cast
Ray - Sage Spiker
Peter - Rob Merritt
Coach - Rip Russell
Lydia - Tierra Plowden
Crew
Director - Cavan Hallman
Stage Manager - Chad Moore
Fight Choreography - K Michael Moore
Lighting Design - Jim Vogt
Sage spiker - "ray"
Sage Spiker has been in many local productions. Some favorite roles include Leon Czolgosz in Assassins, Berger in Hair, and Captain Hook in Peter Pan. He studies theatre and vocal performance at the University of Iowa. Sage is grateful to be a part of bringing this powerful script to life, with such a talented group of people.
---
rob merritt - "peter"
Rob is thrilled to be a part of Mirrorbox Theatre's first season. A graduate of the University of Iowa Theatre and Journalism programs, Rob has appeared onstage at Brucemore, Dreamwell, Iowa City Community Theatre,  Fourth Room, City Circle, The Old Creamery Theatre  and various professional theatres throughout the Midwest. He is also a longtime veteran of Theatre Cedar Rapids, where has has most recently been seen in Bent, The Crucible, Clybourne Park, The Wedding Singer and Bloody Bloody Andrew Jackson. Rob has also written the stage plays Driving To Bermuda, The Summerland Project, and Aurora, as well as the movie Amelia 2.0. Special thanks to Megan, Jackie, Einstein and Danica.
---
rip russell - "coach"
A UI Theatre Arts graduate, Rip has performed with Working Group Theatre, Theatre Cedar Rapids, The Classics at Brucemore, SPT Theatre, City Circle Acting Co., Combined Efforts Theatre, Iowa City Community Theatre, UI Theatres, UI Summer Rep, Purple Cow Dinner Theatre, Old Creamery Theatre, and over 20 productions with Riverside Theatre. Favorite roles include Atticus Finch in To Kill a Mockingbird, Juror #8 in 12 Angry Men, The Duke in Big River, Ray in Blackbird, Eddie Carbone in A View from the Bridge, Prince Dauntless in Once Upon a Mattress, King Arthur in Spamalot, Arthur Przybyszewski in Superior Donuts,  and Willy Loman in Death of a Salesman. This is his first production with Mirrorbox Theatre and is thrilled to be working with this talented crew!  Rip works in Radiology at UIHC and wishes to thank Janis and his pet parrot Dickens for their support.
---
Tierra Plowden - "lydia"
Tierra Plowden is thrilled to be performing in another play with Mirrorbox Theatre. Tierra has been involved in other local productions, such as for colored girls/when the rainbow is enuf, The Summerland Project and Clybourne Park at TCR, as well as Black and Blue at Riverside Theatre and Exit Strategy at Mirrorbox.
---
lucas hnath - Playwright
Lucas Hnath's plays include Hillary and Clinton, Red Speedo, The Christians, A Public Reading of an Unproduced Screenplay About the Death of Walt Disney, Isaac's Eye, and Death Tax. His work has been produced at Actors Theatre of Louisville/Humana Festival of New Plays, Ensemble Studio Theatre, Gate Theatre, Mark Taper Forum, New York Theatre Workshop, Playwrights Horizons, Royal Court Theatre, Soho Rep, Traverse Theatre, and Victory Gardens. He has been a resident playwright at New Dramatists since 2011. He is a member of Ensemble Studio Theatre and a New York Theatre Workshop Usual Suspect. He has received the Kesselring Prize, a Guggenheim Fellowship, the Whiting Award, two Steinberg/ATCA New Play Award Citations, an Outer Critics Circle Award for Best New Play, and an Obie. His work is published by Dramatists Play Service and Overlook Press.
---
chad moore - Stage Manager
Chad Moore is pleased and excited to have his debut stage management experience in this production of Red Speedo! This will be only the 4th theatre production that he has participated in, his first with Mirrorbox, and every time has been a unique learning experience. Chad has enjoyed working with the cast and watching this story come to life while swimming... in the details of the show!
---
Jim Vogt - Lighting Design
Jim Vogt (Marietta College 2012) is a Lighting designer, actor, singer, and theatrical technician in the corridor area. He is excited to work on his second show here with Mirrorbox Theatre having designed lights for Exit Strategy. Jim currently serves as an Artistic Associate with the Old Creamery Theatre in Amana. Some favorite past productions include Vanya and Sonia and Masha and Spike (Spike), Footloose (Chuck/Lights), and Billy Bishop Goes to War (Lights). A big thanks to Mirrorbox Theatre for this opportunity, and lastly, thank you CL.
---
Cavan Hallman - Director
Cavan Hallman's writing has been performed in NYC, New Orleans, Chicago, Ireland, on screen, and on tour with the Windy City Players. His touring plays, which he also directs, have been performed over 20,000 times for nearly 5 million students across the United States. Cavan directed the world premiere of the musical Pictures of Marilyn at the National WWII Museum, named one of the ten best musicals of 2016 by The New Orleans Times-Picayune.
In Eastern Iowa he has worked with Theatre Cedar Rapids as a performer, director, and teacher; directed for Playtime Poppy's Summer Theatre Adventure; performed his solo show at RAYGUN, and worked as a writer and performer for SPT's Tales From the Writer's Room. Upcoming he is collaborating on two new musicals with Robert Lindsey-Nassif and Nancy Hill Cobb, writing for Playtime Poppy in collaboration with the National Czech and Slovak Museum and Library, as well as directing Luna Gale, and There Is a Happiness That Morning Is for Mirrorbox and The Full Monty for Theatre Cedar Rapids.
Cavan is a Resident Artist with The CRY HAVOC Company, and the Artistic Director for Mirrorbox Theatre. Love and thanks to Katie for all of your support.
---
 Special Thanks
F. John Herbert, Mel Andriga, Chad Serhal, Ben Beeson, Theatre Cedar Rapids, Angie Toomsen, Daniel Kelchen, Joni Sackett, Meg Rife, The Gazette, Greg Billman, Aaron Murphy, Cheryl Burns, Michael Fox
Mirrorbox Advocates: Angela Billman, Katie Hallman, Brian Kipp
---
Our next production is Luna Gale by Rebecca Gilman
August 9 - 11 at C Space
See you at the theatre!