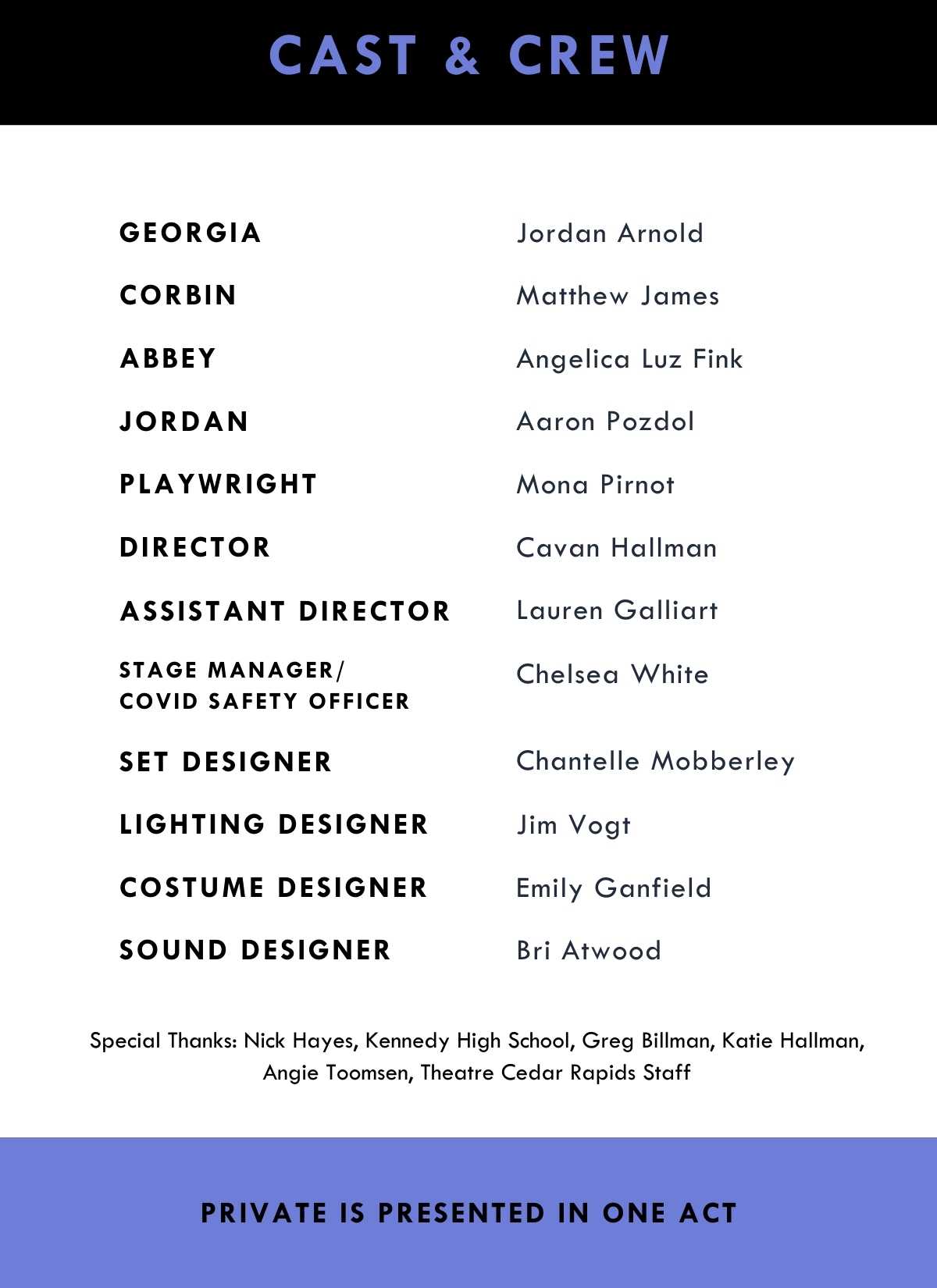 Bios
Jordan Arnold (Georgia) Theatre Cedar Rapids: "Bright Star" (Alice), "A Gentleman's Guide to Love & Murder" (Sibella); Riverside Theatre: "The Taming" (Katherine); Revival Theatre Company: "9 to 5" (Judy)
Matthew James (Corbin) Mirrorbox Theatre: "Luna Gale" (Cliff), "There Is A Happiness..." (Bernard); Theatre Cedar Rapids: "St. Nicholas" (Narrator); "Dracula" (Dracula)
Angelica Luz Fink (Abbey) Cedar Valley Theatre Company: "Godspell" (Celisse); Mirrorbox Theatre: "Luna Gale" (Lourdes); Classics at Brucemore: "Picnic" (Christine); Theatre Cedar Rapids: "Rosencrantz and Guildenstern are Dead" (Ophelia)
Aaron Pozdol (Jordan) Theatre Cedar Rapids: "Kinky Boots" (Don), "A Year with Frog and Toad" (Toad), "Matilda" (Mr. Wormwood), "Newsies" (Snyder)
Cavan Hallman (Director) Cavan Hallman's plays have been performed at the Gallagher Bluedorn Performing Arts Center, National WWII Museum, National Czech & Slovak Museum, Strawdog Theatre, Donny's Skybox, The Artistic Home, RhinoFest, KAPOOT, The Elm, Seattle Fringe, and Columbia College Chicago. His plays for young audiences have received over 15,000 performances in elementary schools across the country for an audience of over 5 million students and teachers. He has performed Off-Broadway, along with other roles in New York, Chicago, New Orleans, and Cork, Ireland, where he presented his solo show "Not Easily Forgotten." Cavan's fiction has been featured in the Southern Writers' Reading Series and the Cane River Reading Series, and his theatrical essays have been featured in PerformInk.
Cavan is the founder and Producing Artistic Director for Mirrorbox Theatre, currently in its fifth season as the only company in Iowa that exclusively presents contemporary plays in their Iowa premieres. For Mirrorbox he has directed the Iowa premieres of Exit Strategy, Red Speedo, Luna Gale, There Is A Happiness That Morning Is, Sender, Orange Julius, The Parking Lot, and Love & Other Destinations. He also serves as the producer for Mirrorbox's nationally recognized online reading series, "Out the Box" directing dozens of readings, leading casts that included the stars of over a dozen Broadway shows, and an Emmy-nominee.
He is based in Cedar Rapids, Iowa, where he has written and directed for Playtime Poppy, where he completed a co-commission with the National Czech & Slovak Museum; written and performed with SPT Theatre; and served as an actor (Dead Man's Cell Phone), director (The Full Monty), and teacher (Scriptwriting, Let's Get Lit!) for Theatre Cedar Rapids.
Recently, he wrote the Book & Lyrics for The Suffragist, a musical collaboration with Nancy Hill Cobb dramatizing the passage of the 19th Amendment. The premiere featured Tony-nominee Nancy Opel and selections from the production will soon be airing on Iowa Public Radio.
Cavan Hallman is a Resident Artist with The CRY HAVOC Company in NYC. He holds a BA from Columbia College Chicago and an MFA in Playwriting from the University of New Orleans, for whom he has also taught acting and scriptwriting. 
Lauren Galliart (Assistant Director/Choreographer) is excited to be doing her first live show with Mirrorbox! While she is on the production team for this show, you may have seen her onstage at various theaters in the area. Select credits include: Oklahoma! (Ado Annie, Revival Theatre Company), Fun Home (Medium Alison, Giving Tree Theatre), Shakespeare in Love (Viola de Lesseps, TCR), Men On Boats (Bradley, Riverside Theatre), Noises Off! (Brooke, Giving Tree Theatre), and Legally Blonde (Elle Woods, TCR). Thanks to Carrie and Cavan for allowing me to join the ride.
Chelsea White (Stage Manager/Covid Safety Officer) (She/They) is thrilled to be returning to Mirrobox Theatre for the third time because every time comes with a great team of collaborators and the ability to grow existing skills and develop new ones. Chelsea has been doing theatre in the Corridor since 2018 when she relocated back to the area. She would love to thank her best friends, Jana and Jen, who support her in life and theatre and her parents for their love and cooperation with the craziness of her schedule during a production. She hopes you come and enjoy this Iowa premiere of Cycle Play.
Chantelle Mobberley (Assistant Stage Manager/Set Designer) is excited to be the assistant to the regional manager...err assistant stage manager in her first MirrorBox production. Recent theatre experience includes Asst. Tech. Director at Jefferson High School, set builder for TCR's children's show at Brucemore, and costumer at Kennedy High School. When she isn't immersed in the theatre world she runs her therapy private practice or spends time with her partner Nick Hayes and fur babies. She would like to thank Nick for his never ending support. 
Jim Vogt (Lighting Designer) BFA Theatre Marietta College; Mirrorbox Theatre: Lighting Designer for every in-person, staged production. 2018-present. Riverside Theatre: Lighting Designer for Eden Prairie, 1971. 2022. Cornell College Theatre: Lighting Designer for Marry Me a Little. 2019. Old Creamery Theatre: Resident Lighting Designer and Actor. 2014-2018.
Emily Ganfield (Costume Designer) Coe College: "The Revolutionists" (Costume Designer); Kirkwood Community College "Sweeney Todd" (Costume Designer); Iowa Stage Theatre Company: "Macbeth" (Costume Designer); Actors Theatre of Louisville: "A Tuna Christmas" (Costume Designer)
Bri Atwood (Sound Designer) Mirrorbox Theatre: "The Parking Lot" (Sound Designer); Riverside Theatre: "Rotten Eggnog" (Sound Designer); Old Creamery Theatre: "A Christmas Carol" (Sound Designer), "James and the Giant Peach" (Sound Designer)