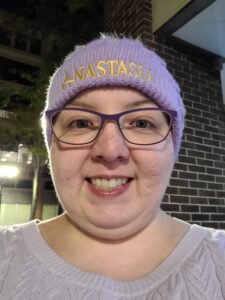 Today, we are introducing our new Audience Services Manager at Mirrorbox Theatre. Chelsea White comes to Mirrorbox from Cornell College in Mount Vernon, Iowa where she has been for almost four years. Most recently, Chelsea served as the Assistant Registrar in the Registrar's Office.
Chelsea is no stranger to the Corridor Theatre Community having participated on productions at Theatre Cedar Rapids, Rich Heritage of Cedar Rapids (RHCR) Theatre Company, Revival Theatre Company, and Giving Tree Theater in addition to Mirrorbox.
Chelsea has previously been seen at Mirrorbox acting as a Stage Manager and a COVID-19 Safety Officer for various productions including DRIVE by Deborah Yarchun which opened our permanent home in the Time Check neighborhood in Cedar Rapids and they are excited by the opportunities that Mirrorbox is bringing to the community.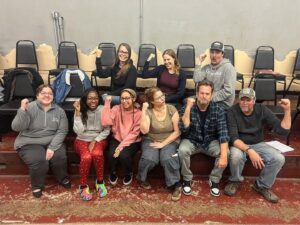 When Chelsea is not participating on a production, they attempt to support as many theatre productions as they can, from contemporary plays to Broadway musicals, as an audience member including traveling to Chicago to see as many National Tours as they can with one of their recent favorites being Moulin Rouge!
Outside of theatre, they have also been a volunteer for American Model United Nations International for ten years and Alpha Gamma Delta International Fraternity for eight years. They also have their Education Specialist degree in Organizational Leadership from Abilene Christian University and while they are optimistic that they won't be returning to higher education any time soon, they still place a focus on both personal and professional growth and development so they enjoy participating in workshops to gain new skills to benefit themself and their community.
Chelsea is looking forward to welcoming patrons to Mirrorbox in 2023 and beyond and is hopeful that they will see you here at a show very soon.