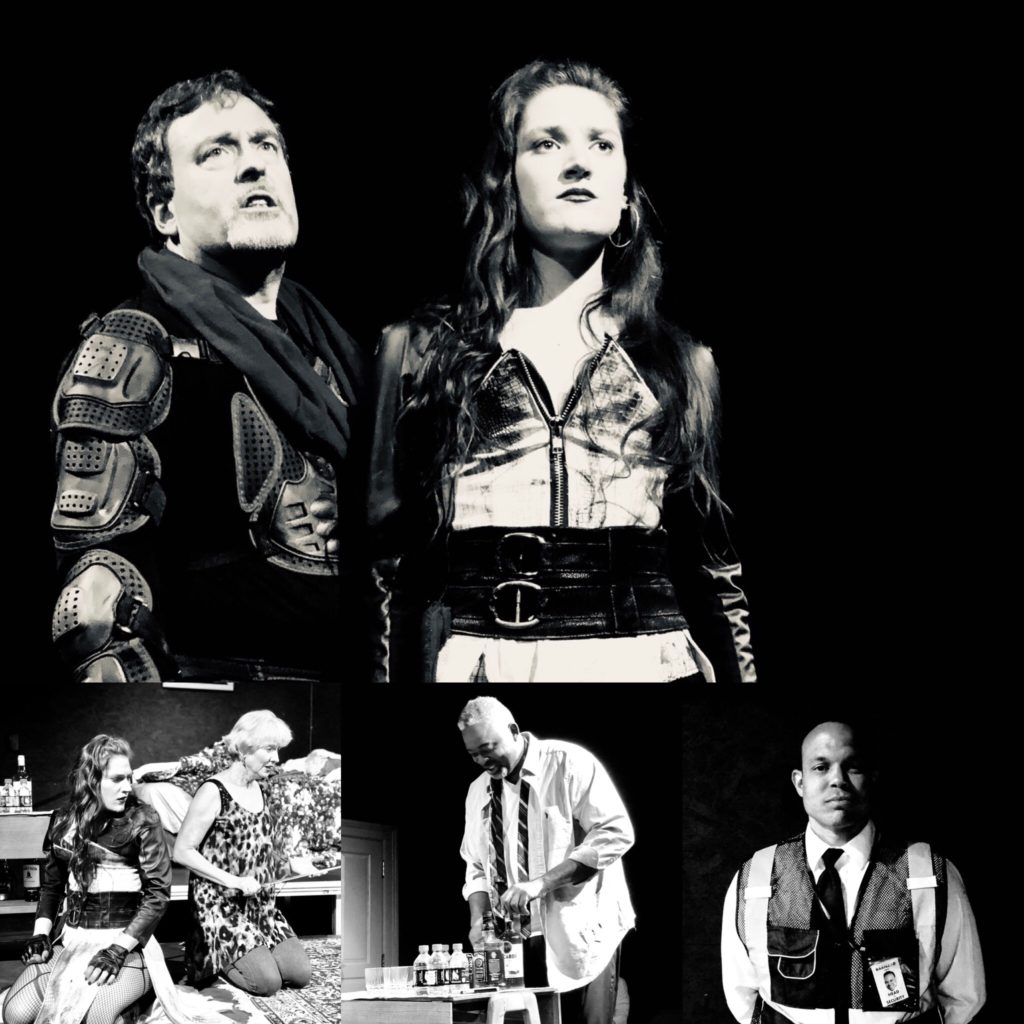 Future Thinking
by Eliza Clark
Presented by Legion Arts
June 6 – 8 2019
C Space | CSPS Hall
Future Thinking will be performed with one 15-minute intermission
Cast
"Jim" – Craig Byers
"Chiara" – Marjorie Gast
"Sandy" – Omarr Hatcher
"Peter" – Rip Russell
"Crystal" – Nina Swanson
Crew
Director – Stephanie Shaw
Stage Manager – Jaime Hein
Lighting Design – Jim Vogt
Costume Design- Kathryn Huang
Production Photography – Greg Billman
Craig Byers – "Jim"
Craig is ECSTATIC to be part of his second Mirrorbox show. Craig would like to thank his cast-mates for a wonderful and professional experience. And a special shout out to Director Stephanie Shaw for coming all the way from Chicago to share her talents! Behind every marginally talented actor, there is a strong perfect woman. Kaitlin is that strong perfect woman for Craig. "Thanks so much Kaitlin for always being there and allowing me this opportunity. I love you more than Peter loves Chiara!"
---
Marjorie Gast- "Chiara"
Marjorie is thrilled to make her first appearance with Mirrorbox! She is a recent graduate of the University of Northern Iowa where she earned a BA in theatre performance. Recently, you might have caught her as Queenie in TCR's The Wild Party. Marjorie has been a company member of Mississippi Bend Players (The Glass Menagerie, Big River, Beginner's Luck), Festival Theatre (The Children's Hour, Rumors, Private Lives, 1776), Revival Theatre Company (Bridges of Madison County) and will begin working with B Street Theatre in California beginning in October. Coming from a family of singers and musicians, performing has always been a part of her life. In fact, it was her instruments and love of storytelling through music that led her to begin pursuing theatre. Marjorie is a classically trained pianist and harpist who has used these talents several times in theatrical settings. When off-stage, Marjorie is a 200hr Certified Yoga Instructor with a focused 140hr certification in Trauma Sensitive Yoga for survivors of PTSD. Marjorie's siblings, Joseph and Lily, are her two favorite redheads in the world and she is so grateful to have grown up as young artists together supported by their loving parents.
---
Omarr Hatcher – "Sandy"
Omarr made his debut in Theatre Cedar Rapids' production of Elf, directed by Joe Link. After that, he took the stage as the stripping/singing/dancing "Horse" in The Full Monty, also at TCR. This is his first show with Mirrorbox Theatre.
---
Rip Russell – "Peter"
A UI Theatre Arts graduate, Rip has performed with virtually every theatre company in the corridor over the past 42 years. Favorite plays include To Kill a Mockingbird (Atticus Finch), 12 Angry Men (Juror #8), Big River (The Duke), Blackbird (Ray), A View from the Bridge (Eddie Carbone), Spamalot (King Arthur), Superior Donuts (Arthur Przybyszewski), and Death of a Salesman (Willy Loman). He currently tours a 2 person play, Vang!, profiling 4 different immigrant couples who have come to Iowa to work in farming and agriculture, written by Iowa Poet Laureate Mary Swander. This is Rip's 2nd Mirrorbox production, having appeared in last year's Red Speedo (Coach). Rip works in Radiology at UIHC and wishes to thank Janis and his pet parrot Dickens for their support.
---
Nina Swanson – "Crystal"
Nina Swanson is a longtime area actor and musician. Currently besides acting, she is the director of music at the Unity Center of Cedar Rapids, teaches piano, does voiceover work, and loves to garden with her husband Carl. Lots of love to all her family, and fellow theater people. Let's all put a little more play in our lives!
---
Eliza Clark – Playwright
Eliza Clark has developed plays at Manhattan Theatre Club, the Studio at Cherry Lane Theatre, Page 73 Productions, Ensemble Studio Theatre, and others. She has received commissions from South Coast Repertory and Yale University's O'Neill Studio. Clark was a member of Ensemble Studio Theatre's emerging writers group, Youngblood, and was the 2010 Page 73 Playwriting Fellow. Most recently, she was a member of Center Theater Group's writers group. Her play Edgewise was co-produced by Page 73 and The Play Company in 2010 and her play Recall was produced by Colt Coeur at The Wild Project in 2012. Her play Future Thinking was featured on The Kilroy's List and produced at South Coast Repertory in spring 2016. Edgewise, Recall, and Future Thinking are published by Samuel French. Clark also has written for television including AMC's Rubicon and The Killing. She is a writer and co-executive producer on Animal Kingdom for TNT.
---
Stephanie Shaw – Director
Stephanie Shaw is a solo performance artist, writer, stage director, and teacher. She has performed her work in venues across Chicago, as well as New York City. She is a founding member of BoyGirlBoyGirl, Chicago's favorite solo performance ensemble, and an alumni of the Neo-Futurists, where she wrote and performed regularly for Too Much Light Makes The Baby Go Blind. She has performed her own work for The Paper Machete, The Estrogen Fest, 2nd Story, The Poetry Center of Chicago, Live Bait Theater, The Partly Dave Show, The Dollar Show, The Encyclopedia Show, The Neo-Futurarium, The New York Fringe Fest and the NYC Estrogenuis Fest. She was a regular theatre critic for the Chicago Reader for a time. She has directed for The Oak Park Festival Theatre, Live Bait, The New York Fringe, The Neo-Futurarium, and a dozen plays and musicals for the Theatre Department of Columbia College Chicago, where she is a Professor of Instruction.
---
Jaime Hein – Stage Manager
Jaime Hein is thrilled for the chance to work on this great show with this talented group of people. She has many credits on and off stage, including SM for the last two New Play Festivals, AD/SM for Dead Man's Cell Phone & The Bully Plays at TCR and ASM for Apples in Winter at Riverside Theatre. When not hanging around the theatre scene Jaime is working full time at ESP International and taking care of her favorite dog, Dudley.
---
Jim Vogt – Lighting Design
Jim Vogt (Marietta College 2012) is a lighting designer, actor, singer, and theatrical technician in the Corridor area. He is excited to work on his sixth show here with Mirrorbox Theatre. Some favorite past productions include Vanya and Sonia and Masha and Spike (Spike), Footloose (Chuck/Lights), and Billy Bishop Goes to War (Lights). A big thanks to Mirrorbox Theatre for this opportunity, and lastly, thank you CL.
---
Kathryn Huang- Costume Design
Kathryn Huang, Costume Designer, has been involved in the Cosplay scene for the last 10 years. She was most eager to work on this project! Most recently, she has done costume design for the Cedar Rapids Opera production of The Grant Wood Operas, Revival Theatre productions of 9 to 5, and Sunday in the Park with George. She has also been the costume designer for TCR's Intimate Apparel and the designer for Queen Elizabeth's costume in Shakespeare in Love.
---
Greg Billman- Production Photography
---
Special Thanks
F. John Herbert, Mel Andringa, Dan Miller, Ben Beeson, Theatre Cedar Rapids, The Old Creamery, K Michael Moore, Angie Toomsen, Joni Sackett, Katie Hallman, Julie Stow, Omarr Hatcher
---
Thank You to Our Generous Donors
You make it possible for us to bring the best new plays to Cedar Rapids.
David Maier & Matthew McGrane
Craig & Kaitlin Byers
Philip Schramp
Katie Hallman
---
Our next production is Sender by Ike Holter
August 22 – 24 at C Space
See you at the theatre!
---