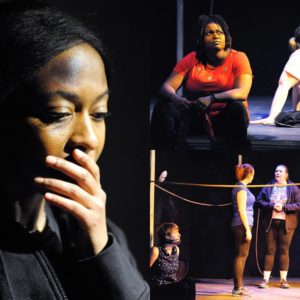 Bully
by Amina Henry
Presented by Legion Arts
Feb. 28 – March 2 2019
C Space | CSPS Hall
Bully will be performed without an intermission
Cast
Wren – Christina Farrell
Tanisha – Diviin Huff
Delilah – Megan Merritt
Bree – Tierra Plowden
Candace – Carrie Pozdol
Simone – Noel VanDenBosch
Crew
Director – Katy Hahn
Stage Manager – Jaime Hein
Lighting Design – Jim Vogt
Set Consultant – Tim Slaven
Choreography – Cara Viner
Lighting Design – Jim Vogt
Production Photography – Greg Billman
Christina Farrell – "Wren"
Farrell received a BFA in Vocal Performance from Carnegie Mellon University and an MA in Educational Theatre from New York University. She is a Master Teaching Artist with the Wolf Trap Institute for Early Learning Through the Arts, and facilitates professional development for the Kennedy Center and Turnaround Arts. She is the Founding Director of Opera Ignite, which has served as an educational collaborator with Pittsburgh Symphony Orchestra, Pittsburgh Cultural Trust, Pittsburgh Festival Opera, Toledo Opera, and Cedar Rapids Opera Theatre. She performed for six years with the Washington National Opera chorus under the artistic direction of Placido Domingo. Roles include Francesca in Bridges of Madison County, Nellie in South Pacific, Monica in The Medium, Beatrice in Much Ado About Nothing, Lucy in The Telephone, Agnes in I Do, I Do!, and Isabella in Suor Isabella. She has performed with Pittsburgh Fringe Festival, Pittsburgh Playwrights, and as a soloist with Westmoreland Symphony Orchestra. As a Cedar Rapids native, she is thrilled to be participating in challenging and thought-provoking local theatre with Mirrorbox!
---
Diviin Huff – "Tanisha"
Diviin is so stoked to be a part of an all female cast! She would like to thank Mirrorbox theatre for her Cedar Rapids debut, the cast and crew for their rhythm and dedication, her friends and family for support, and you dear reader for supporting local artists! You can hear her on the radio live online at www.KRUI.fm, or 89.7 fm in Iowa City, on Thursdays at 5pm on her show, A Moment With Diviin.
---
Megan Merritt – "Delilah"
This is Megan's first time onstage. A lawyer by day, watching her husband and friends perform in shows inspired her to step onto the stage at night. A special thanks to Rob, Samie, Emily, Megan, and Nathan for their support and encouragement. Enjoy the show!
---
Tierra Plowden – "Bree"
Tierra Plowden is thrilled to be performing in another play with Mirrorbox Theatre. Tierra has been involved in other local productions, such as for colored girls/when the rainbow is enuf, The Summerland Project and Clybourne Park at TCR, as well as Black and Blue at Riverside Theatre and Exit Strategy at Mirrorbox.
---
Carrie Pozdol – "Candace"
Carrie is incredibly happy to be making her Cedar Rapids stage debut with Mirrorbox. Originally from Dubuque, IA, Carrie spent a decade in the Chicago theater scene writing, directing, and acting. Since returning to Iowa, Carrie has acted and directed with Fly By Night Productions and the Dubuque One Act festival, and appeared in the film Repatriation. She would like to thank all the incredible women making this art with her. Thanks also to Katy and Cavan for taking a chance on an unknown kid. And finally, thanks to her husband Aaron and their two awesome kids, Ava and Charlie.
---
Noel VanDenBosch- "Simone"
Noel VanDenBosch has been performing in the Corridor area since 2008, working with organizations including TCR, Giving Tree Theatre, City Circle, ICCT, and now Mirrorbox Theatre. Behind the scenes, she builds sets at TCR, does the occasional costume design gig, and works for the local stagehand union. She would like to thank Katy, Cavan, her fellow "bullies", and Jaime for everything they've given to make this process an incredible experience. Special thanks and love to KMM.
---
Amina Henry – Playwright
Amina Henry is a Brooklyn-based playwright. Productions include: Ducklings at JACK (Brooklyn, NY), The Animals at JACK, Happily Ever at Brooklyn College, Bully at Interrobang Theater (Baltimore, MD), An American Family Takes a Lover, produced by The Cell: a 21stCentury Salon and presented by Theatre for the New City (New York, NY), Water produced by Drama of Works (Brooklyn, NY), The Minstrel Show, produced as part of the 2013 Bring a Weasel and a Pint of Your Own Blood Festival 13th Street Theater/CSC. Her work has been developed by/presented at: The New Group, Clubbed Thumb, The Flea, National Black Theater, Little Theater at Dixon Place, The Brooklyn Generator, The Brick, Oregon Shakespeare Festival in the 2013 Black Swan Lab Series (Ashland, OR), Kitchen Dog Theater (Dallas, TX), The Brick, HERE Arts Center,The Cell: a 21st Century Salon, HERO Theatre, the Hive Theater, the Bowery Poetry Club and Brooklyn College. She was a 2012-2013 Core Apprentice playwright at ThePlaywrights Center and a 2013 Finalist for the Leah Ryan FEWW Playwriting Prize for her play Bully. She was a featured playwright at the 2013 Black and Latino Playwrights Conference at Texas State University.
Publications include Hello, My Name Is Joe in the compilation 24 Gun Control Plays, published by NoPassport Press. Amina Henry is a graduate of Yale University, NYU's Performance Studies MA program and Brooklyn College's MFA Playwriting program, lead by head weasels Mac Wellman and Erin Courtney. She has been a member of Clubbed Thumb's Early Career Writers Group, Page73's writers group, and is a 2017-2018 member of the Ars Nova writers group. She is a 2017-2018 recipient of the Lower Manhattan Cultural Council Space Residency and is a 2018 recipient of a space residency at Dixon Place.
---
Katy Hahn – Director
Katy Hahn works with people of all levels of experience to spark creativity, inspire confidence, cultivate empathy, build community, and engage in the greater conversations of life. An Iowa native, Katy earned her MFA in Acting at Florida Atlantic University before returning to her home state. She specializes in acting, movement, voice, and speech, with additional expertise in musical theatre, new play development, theatre for social change, dialect work, and Shakespeare. Her biggest professional accomplishment so far (if you can call it that) is surviving the life of a "road warrior," commuting all over the state for the past three years to work at UNI, Coe, Hawkeye Community College, Nolte Academy, Theatre Cedar Rapids, Riverside Theatre and others. This is her first show with Mirrorbox Theatre. Big thanks to Katy's husband Billy and son Jack, as well as all the family, friends, and colleagues old and new who have made her involvement with this production such a rewarding experience! www.katyhahn.com
---
Jaime Hein – Stage Manager
Jaime Hein is thrilled for the chance to work on this great show with this talented group of people. She has many credits on and off stage, including SM for the last two New Play Festivals, AD/SM for Dead Man's Cell Phone & The Bully Plays at TCR and ASM for Apples in Winter at Riverside Theatre. When not hanging around the theatre scene Jaime is working full time at ESP International and taking care of her favorite dog, Dudley. Many thanks go out to Katy and the entire cast of Bully.
---
Jim Vogt – Lighting Design
Jim Vogt (Marietta College 2012) is a lighting designer, actor, singer, and theatrical technician in the corridor area. He is excited to work on his fifth show here with Mirrorbox Theatre. Some favorite past productions include Vanya and Sonia and Masha and Spike (Spike), Footloose (Chuck/Lights), and Billy Bishop Goes to War (Lights). A big thanks to Mirrorbox Theatre for this opportunity, and lastly, thank you CL.
---
Tim Slaven – Set Consultant
Cara Viner – Choreography
Greg Billman- Production Photography
---
Special Thanks
F. John Herbert, Mel Andringa, Dan Miller, Ben Beeson, All the Way Up Studio
---
Thank You to Our Generous Donors
You make it possible for us to bring the best new plays to Cedar Rapids.
David Maier & Matthew McGrane
Craig & Kaitlin Byers
Cara Viner
Philip Schramp
---
Our next production is Future Thinking by Eliza Clark
June 6-8 at C Space
See you at the theatre!
---