This production has been postponed
until the 2022 Season.
51 years ago, Dock Ellis pitched a no-hitter on LSD.
This fall, Mirrorbox presents the world premiere of a brand new outdoor play that explores the fascinating life & career of this revolutionary pitcher, once known as the "Muhammad Ali of Baseball."
All Tickets $20
September 17 - 19, and 24 - 26, 2021  |  6 pm
Allen's Orchard  |  5801 N 10th St, Marion, Iowa

This Is Not A Game of Baseball provides a complex look at the trailblazing former major league pitcher, Dock Ellis. The man's most (in)famous accomplishment becomes a springboard for exploring Ellis' incredible life story, including his eventual turn to sobriety and second career as a life-saving drug counselor. It is a memory play about a man who tragically can barely remember his greatest professional feat.
This is a unique outdoor theatrical experience, presented outdoors at Allen's Orchard in Marion, Iowa. Bring a lawn chair or blanket and grab a treat from the orchard store to take down to the field.
Baseball, apple pie, and the wide open Iowa sky... it's an experience you won't soon forget.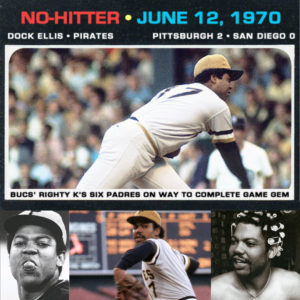 Dock Ellis was an outspoken advocate for social justice and personal expression. He was an All-Star, a World Series Champion, celebrated by Jackie Robinson for his anti-racism work, but his cultural legacy has been reduced to a single novelty. This Is Not a Game of Baseball reclaims and celebrates his legacy, in its full human scope, as Dock is surrounded by his Hall of Fame teammates and icons of the 60's and 70's.
This Is Not a Game of Baseball features the return of many favorite Mirrorbox Theatre performers, including Omarr Hatcher (Future Thinking, Orange Julius), Olivia Lestrud, (Exit Strategy, Sender), Tierra Plowden (Exit Strategy, Red Speedo, Bully), and starring Caleb "The Negro Artist" Rainey (Exit Strategy, Luna Gale) as Dock Ellis, the most revolutionary pitcher in baseball.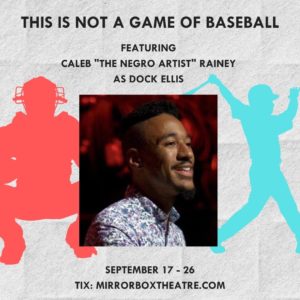 RAIN/REFUND POLICY
This Is Not a Game of Baseball is a fully outdoor performance. In case of inclement weather, we will make every effort to perform, including playing in light rain. Also, we may delay the performance to allow weather to pass. A decision to play or cancel will be made within approximately 45 minutes of the time the performance was delayed.
If a performance is cancelled, all attendees will be offered a rain date. If attendees are unable to attend a rain make-up performance, refunds may be requested by contacting mirrorboxtheatre@gmail.com. No on-site refunds will be offered. Refunds are only available to patrons whose ticketed performance is cancelled due to inclement weather.
Buy Tickets Now
Bring your blanket or lawn chair for an unforgettable night of outdoor theatre!
This Is Not a Game of Baseball was developed thanks to the generous support of Beth Moriarty & Michael Langan, and the Iowa Arts Council/Iowa Department of Cultural Affairs and the National Endowment for the Arts.