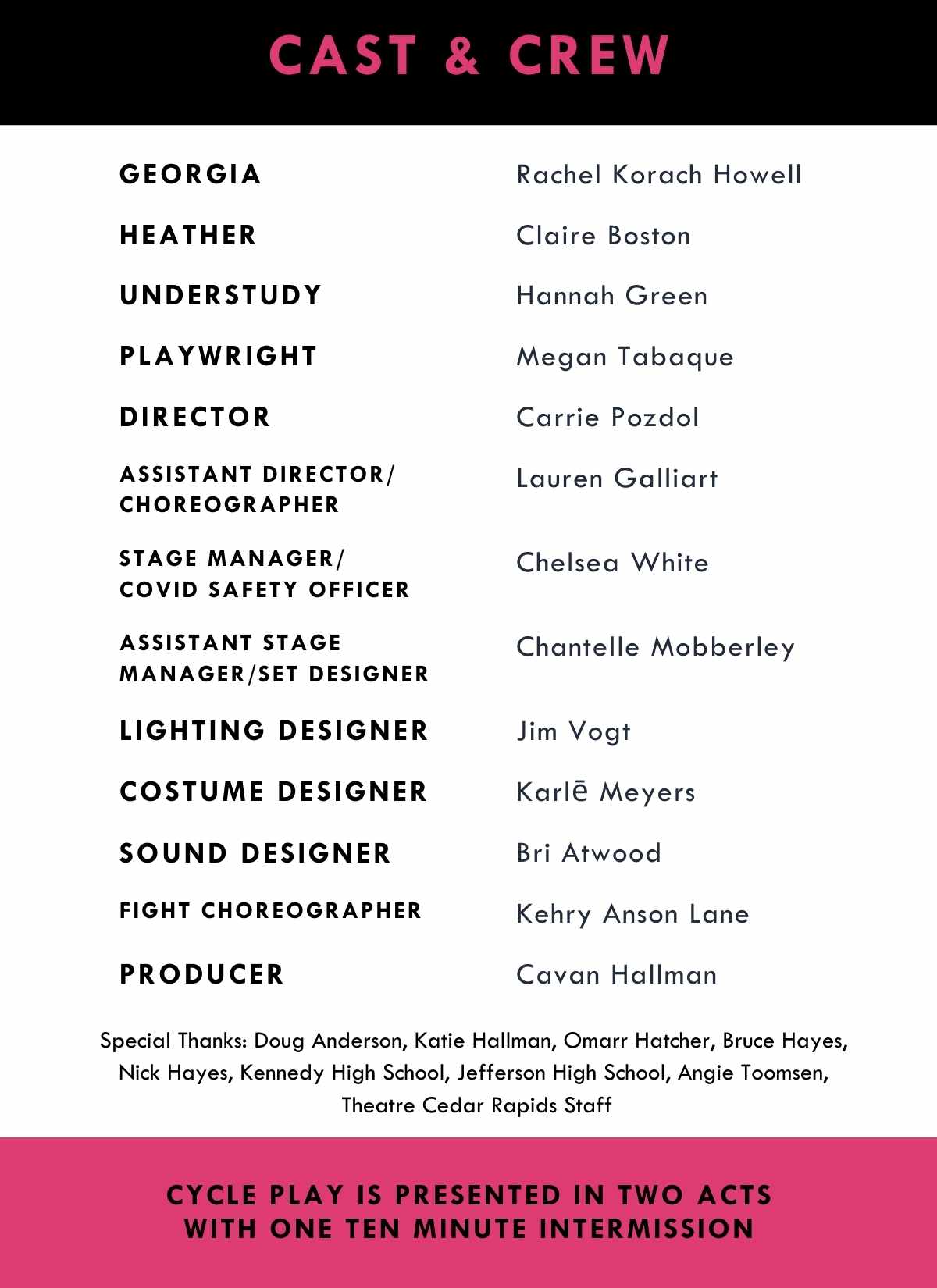 Bios
Claire Boston (Heather): ACTING - TheatreMidwest: Dairy Queen, Atlas of Mud, When the Messenger is Hot. Giving Tree Theater: Silent Sky, Pride and Prejudice, Puffs, The Tin Woman. Theatre Cedar Rapids: Dracula, Underground Play Festival. Dreamwell Theatre: Visages. London Academy of Music and Dramatic Art: Twelfth Night, 'Tis Pity She's a Whore. REPRESENTATIVE ROLES - Mirrorbox Theatre: Rolling. Dreamwell Theatre: The Humiliation Play. 50/50-An Arts Production Co.: Miss Bennet: Christmas at Pemberley, Dracula, All the Natalie Portmans. DIRECTING - ICCT: Romeo and Juliet (pre-production). Theatre Cedar Rapids: A Walking Shadow. EDUCATION - Buena Vista University: BA Theatre. London Academy of Music and Dramatic Art: Classical Acting Diploma. THANK YOU - to the whole cast and crew of The Cycle Play, especially Carrie and Rachel who's kindness, openness, tenacity, and artistry pushed and shaped this performance and brought this script to life. 
Rachel Korach Howell (Georgia) holds a BA in Theatre Arts from the University of Iowa and has acted and directed locally since moving to the Corridor in 2003. Previous roles include: Maricela Ochoa (Sonnets for an Old Century, Riverside), Allison (Out of Bounds, TCR), Sumner (Men On Boats, Riverside), Becca (Rabbit Hole, Giving Tree), and Beatrice (Much Ado About Nothing, Fourth Room). Rachel sends love to KLMsSRAs&Js and thanks Carrie and Mirrorbox Theatre for this wonderful opportunity to be a part of bringing new work to the corridor. Enjoy the show!  
Hannah Green (Understudy) is a social worker specializing in suicide prevention and artist living in Iowa City. She is truly thankful for the Cedar Rapids theatre community for welcoming her with such warm arms. Thank you to Cavan and the entire Mirrorbox Theatre team for this show and all the innovative theatre they bring to the area. Shoutout to all the strong, real women on our team, in the audience, and in our world. 
Megan Tabaque (Playwright) is a Filipina-Canadian playwright, actor, and arts educator. Her work has been developed, commissioned, and produced by the Alliance Theater, Salvage Vanguard Theater, Tofte Lake Center, the Workshop Theater, Paper Chairs, and Vanderbilt University  among others. She is a James A. Michener Fellow, Kundiman Fiction Fellow, Sewanee Writers' Conference Scholar, Seattle Public Theater Emerald Prize finalist, Playwrights' Realm Scratchpad Series semi-finalist, and a 2021 Four Seasons Residency nominee. She is currently developing a brand new play about conspiracy theorists and human trafficking in Asian American communities titled Marry Me, Bruno Mars for Emory University's Brave New Works festival. Megan earned her MFA in Playwriting and Fiction from the Michener Center for Writers in Austin, TX. She currently resides in Atlanta, where she is the 2021-2023 Emory Fellow of Playwriting and also the writers assistant to celebrated playwright and tv writer, Sheila Callaghan. 
Carrie Pozdol (Director) is originally from Dubuque, Iowa. Carrie graduated from Simpson College then spent 10 years in Chicago working with several storefront theatres as an actor and sound designer, and was an ensemble member with both Tinfish and Red Tape Theaters. Between those two companies, she was cast in "Cain", "Fools", "The Balcony", and "Coriolanus". Carrie also had the chance to work with MidTangent Theater in the very popular "Midsummer Night's Dream: A Queer Tale" and "I Am Hamlet." Before leaving, she also co-wrote, co-directed, and co-starred in a sketch comedy show called "It's About Time" which played at Gorilla Tango Theater.
Since moving to Cedar Rapids, Carrie has been very lucky to find a place in the Corridor theater community. As an actor she was seen in "Bully" with Mirrorbox, "Blackberry: A Burial" with the U of I New Play Festival, "The Christians" at City Circle, and was cast of "The Humans" with Theatre Cedar Rapids. Most recently she was seen in Out of Bounds and Let The Right One In, both also at Theatre Cedar Rapids. 
During the pandemic, Carrie took the opportunity to start training in the field of Intimacy Choreography. To date, she has 38 hours of workshop training with Theatrical Intimacy Education, with more scheduled. She also began the "Pathway to Certification" program with Intimacy Directors and Coordinators. Carrie has served as the intimacy director/choreographer for all of the shows in the current TCR season, starting with "Bright Star" and most recently with "Kinky Boots". She has also been working with City Circle, Coe College, and Cornell College in the same capacity. Carrie also stepped into the world of virtual theatre, serving as the director for the Iowa City Community Theatre production of "She Kills Monsters: Virtual Realms".
Carrie is so thrilled to be a part of the next chapter for Mirrorbox Theatre and feels very privileged to have been given the opportunity to direct this exciting new work with such a talented and dedicated team of artists. Thank you for coming! Please enjoy, and keep supporting your local theater!
Lauren Galliart (Assistant Director/Choreographer) is excited to be doing her first live show with Mirrorbox! While she is on the production team for this show, you may have seen her onstage at various theaters in the area. Select credits include: Oklahoma! (Ado Annie, Revival Theatre Company), Fun Home (Medium Alison, Giving Tree Theatre), Shakespeare in Love (Viola de Lesseps, TCR), Men On Boats (Bradley, Riverside Theatre), Noises Off! (Brooke, Giving Tree Theatre), and Legally Blonde (Elle Woods, TCR). Thanks to Carrie and Cavan for allowing me to join the ride.
Chelsea White (Stage Manager/Covid Safety Officer) (She/They) is thrilled to be returning to Mirrobox Theatre for the third time because every time comes with a great team of collaborators and the ability to grow existing skills and develop new ones. Chelsea has been doing theatre in the Corridor since 2018 when she relocated back to the area. She would love to thank her best friends, Jana and Jen, who support her in life and theatre and her parents for their love and cooperation with the craziness of her schedule during a production. She hopes you come and enjoy this Iowa premiere of Cycle Play.
Chantelle Mobberley (Assistant Stage Manager/Set Designer) is excited to be the assistant to the regional manager...err assistant stage manager in her first MirrorBox production. Recent theatre experience includes Asst. Tech. Director at Jefferson High School, set builder for TCR's children's show at Brucemore, and costumer at Kennedy High School. When she isn't immersed in the theatre world she runs her therapy private practice or spends time with her partner Nick Hayes and fur babies. She would like to thank Nick for his never ending support. 
Karlē Meyers (Costume Designer) is thrilled to be designing for Cycle Play.  Notable Credits include - Mirrorbox: Orange Julius (Costume Design); UNI Theatre: Blood at the Root (Upcoming Costume Design); Riverside: Uncle Vanya (Costume Design); Broadway's Winter Garden: Wolf Hall Parts One and Two (Wardrobe Swing/Dayworker)
Kehry Anson Lane (Fight Choreographer)(Serge) holds a BA in Theatre Arts from the University of Iowa. Over the past two decades, he has worked as an actor, director and fight choreographer for many local theatres.  He is delighted to work with this delightful cast and crew.