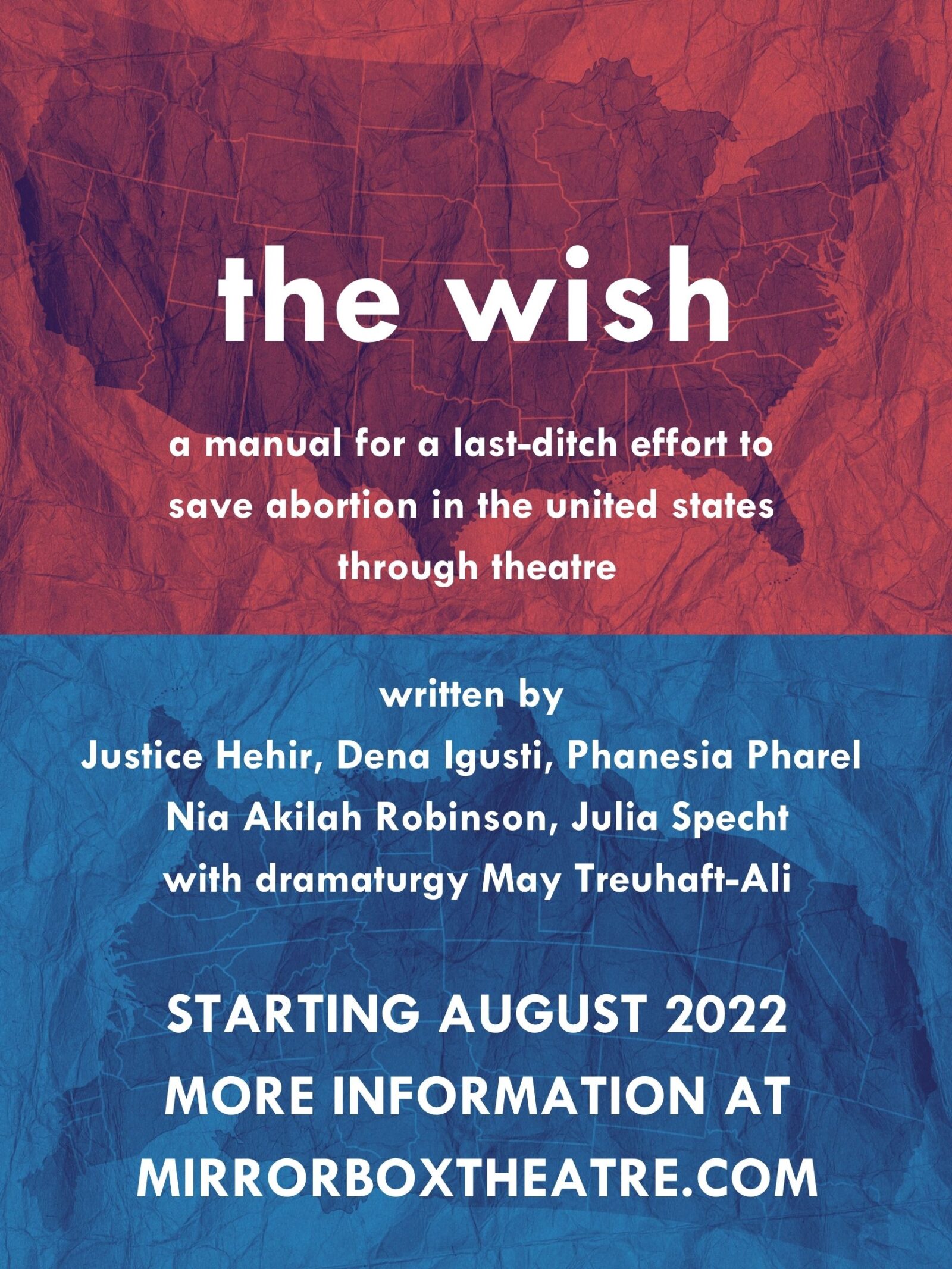 SEEKING HOSTS
Are you passionate and/or curious about reproductive rights?
Mirrorbox is working with multiple hosts to arrange private performances of "the wish" in unconventional spaces beginning in August - your living room, your business' conference room, an off-night in your bar. These innovative intimate events consist of two performers and at least 10 attendees, arranged by you and joining together at a location of your choosing. The two performers will lead the attendees in a group reading of this stunning, informative, and funny collection of scenes focused on one of the most important issues of our time - reproductive rights.
THESE PERFORMANCES ARE PRESENTED FREE OF CHARGE for locations within 30 miles of Mirrorbox's home location at 1200 Ellis Blvd. NW in Cedar Rapids. In lieu of admission, Mirrorbox will solicit donations at the time of the performance, and a portion of the proceeds will be shared with a qualified 501(c)3 non-profit that is committed to the work of preserving reproductive rights. Hosts are invited to provide complimentary, donation-based, or menu-priced beverages and food as they feel appropriate for their unique space and event.
Performances beyond the 30 mile radius can be arranged for an additional fee - i.e. if you want to pay for a team to hop on a plane and lead a reading at the base of the Eiffel Tower, we can make it happen. Don't threaten us with a good time!
Hosts must guarantee the attendance of at least ten individuals (age 16+) per reading. Most attendees will be asked to participate - this will consist only of reading and writing down responses to a limited number of survey questions. Audience participation can be weird - we get it. But we promise you won't be asked to do anything crazy.
It is imperative that the hosts join Mirrorbox and the performers of the wish in creating a safe and inclusive space for expression and vulnerability around this very important topic. A set of performance agreements will be presented and agreed upon at the start of each event.
Fill out the application below in order to be considered.
[ninja_form id='3']