"Out the Box" is a new reading series of fresh contemporary plays, streamed live and to a limited audience. Presented by Mirrorbox Theatre.
Only the first 100 people to register will get to watch each live (streamed) reading. The performances will not be broadcast on social media, or recorded for later viewing -- you have to be there if you want to see something new.
THE WHITE PANTS PLAY
by Emmy Lane Palmersheim
directed by Janeve West
Friday August 14th  |  8 pm CST  |  FREE
Cast
TBA
Why has Tilly locked herself into a bathroom stall? Because she was just struck by the worst thing that could happen to a girl wearing white pants. Her friends scramble to get the situation under control, while navigating the treacherous world of becoming a woman in an American high school.
Register Now!
Space is limited for this exciting play reading, presented FREE!
Ghost Light
written and directed by Cavan Hallman
March 20, 2020
Cast
Director: Aaron Murphy
Actress: Jo Jordan
Actor: Mike Spara
Stevenson: Matthew James
Bridget: Lauren Galliart
The Canopic Jar of My Sins
by Justin Maxwell
directed by Cavan Hallman
March 27, 2020
Cast
Ralph Wiley: Angie Toomsen
Angel of Canopic Jars: Diviin Huff
Gooney Revenant/Last Easter Islander: Britny Horton
Roger Waters/Robert Oppenheimer: Dennis Barnett
Stage Directions: Angelica Fink
Caught
by Sharon E. Cooper
directed by Cavan Hallman
April 3, 2020
Cast
Deborah: Rachel Korach Howell
Aaron: Jon Greene
Chad: Hebert Benjamin
Marcus: William Jackson Harper
Stage Directions: Katie Hallman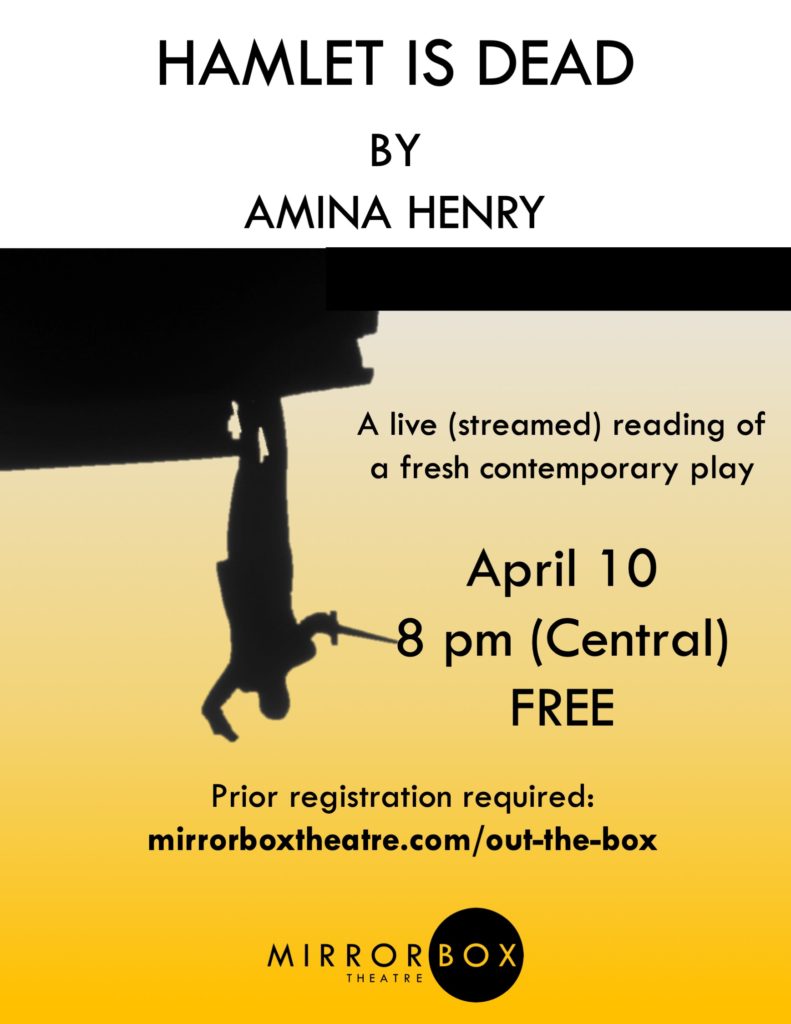 Hamlet Is Dead
by Amina Henry
directed by Cavan Hallman
April 10, 2020
Cast
Cody: Caleb "The Negro Artist" Rainey
Mika: Maggie Hart
Benji: Rip Russell
Dawn: Caroline Price
Jana: Marjorie Gast
Lily: Hannah Spina
Yuri: Curtis M. Jackson
Owen: Patrick du Laney
Errol: Omarr Hatcher
Annette: Tierra Plowden
Stage Directions: Katie Hallman
Rolling
by Calamity West
directed by Cavan Hallman
April 17, 2020
Cast
Valerie: Liz Sharpe
Janet: Nina Swanson
Molly: Claire Boston
Danny: Behzad Dabu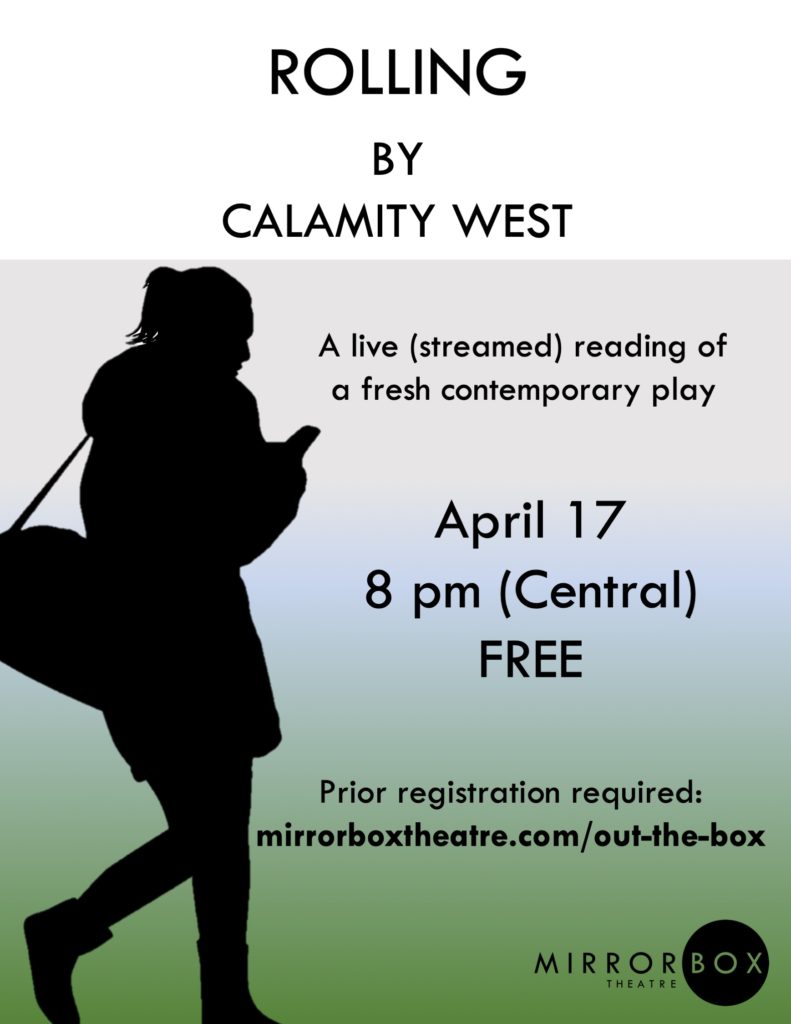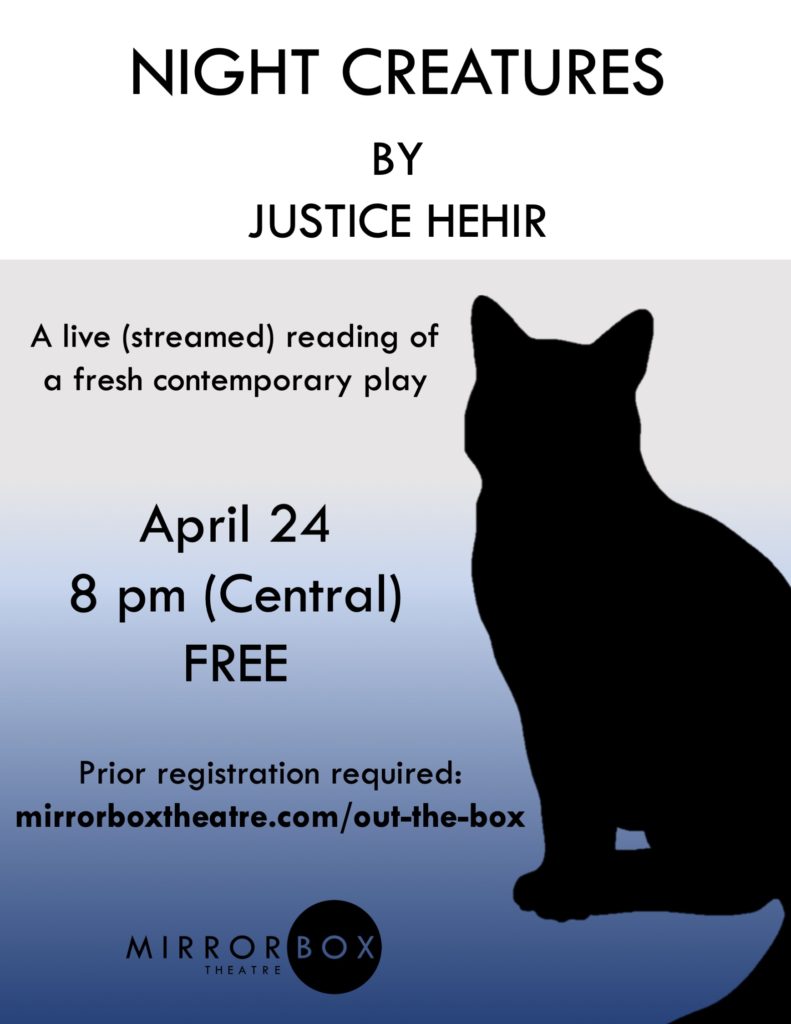 Night Creatures
by Justice Hehir
directed by Cavan Hallman
April 24, 2020
Cast
Alex: Mic Evans
Paul: Eden Marryshow
Lara: Jessica Little
Leanne: Molly Carden
Stage Directions: Katie Hallman
THIS HAPPENED ONCE AT THE ROMANCE DEPOT OFF THE I-87 IN WESTCHESTER
by Gina Femia
directed by Cavan Hallman
May 1, 2020
Cast
Kevin: Patrick Du Laney
Beth: Kristin Stokes
Janice: Fred Bailey
Tom: Jason Alberty
Stage Directions: Katie Hallman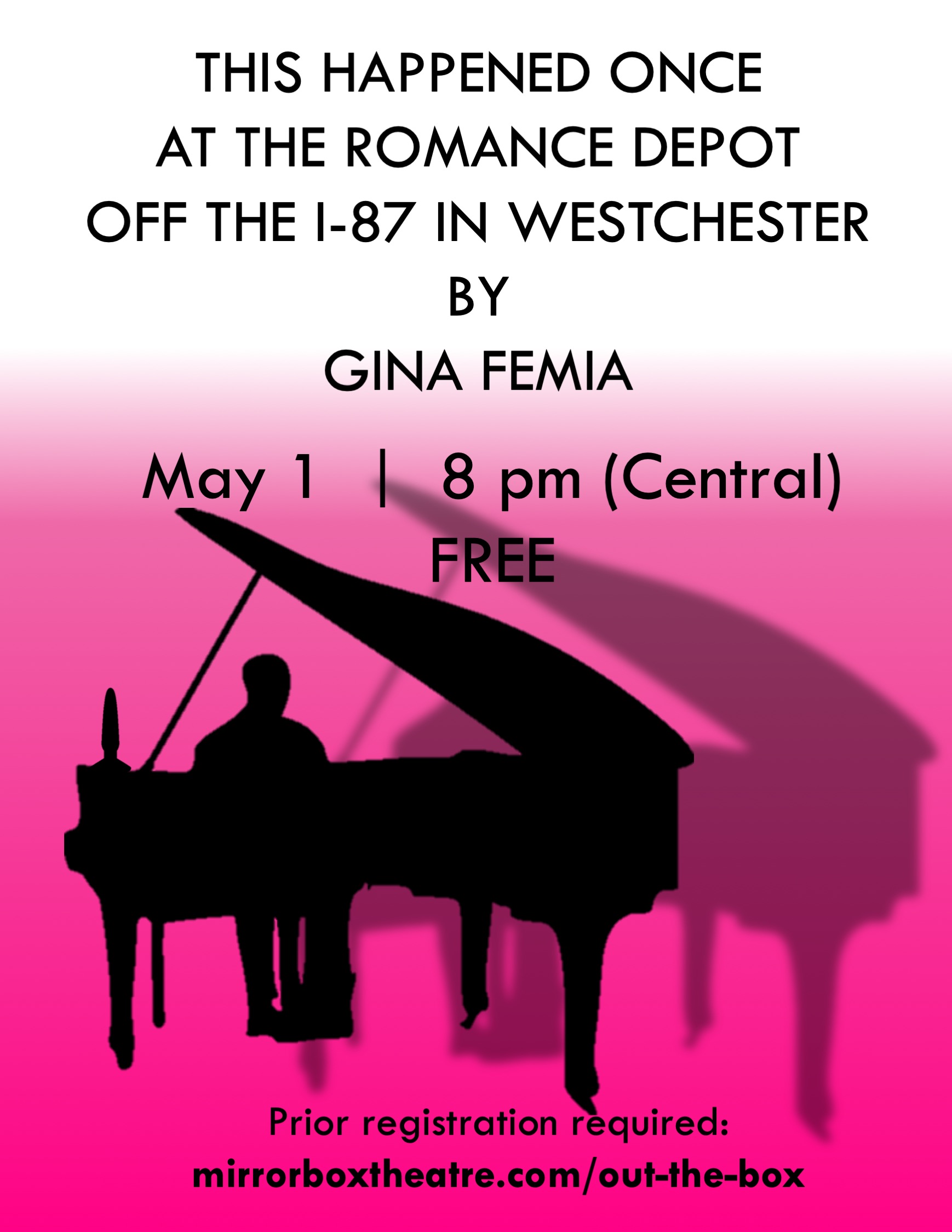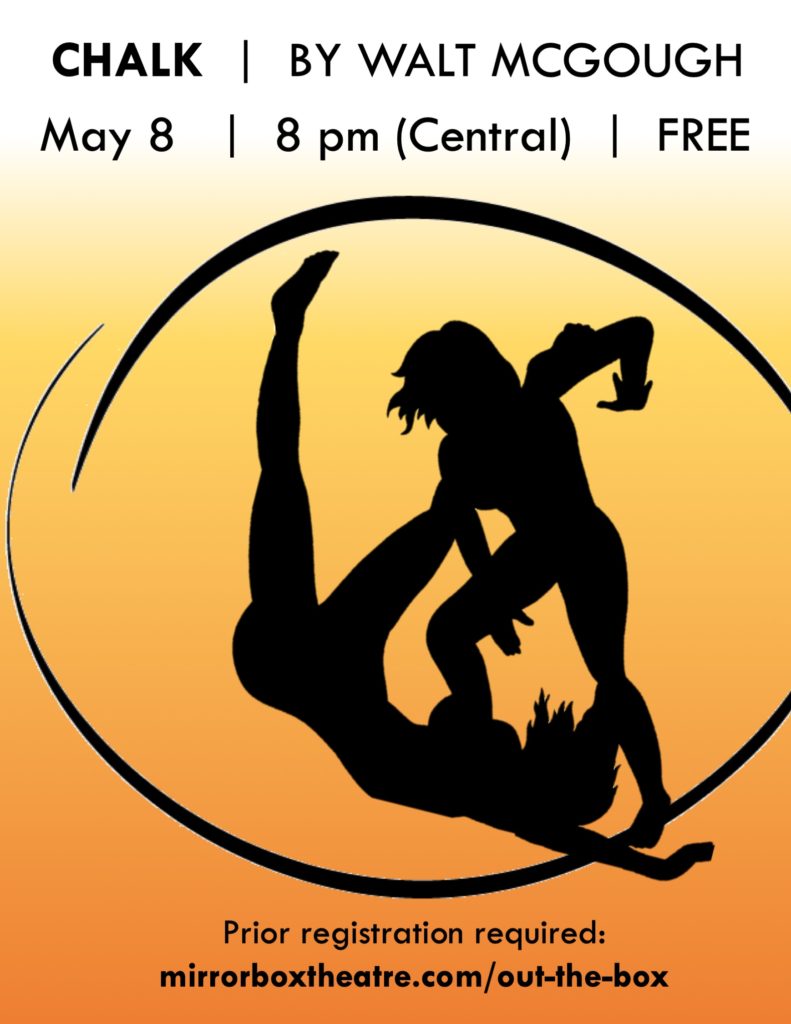 CHALK
by Walt McGough
directed by Cavan Hallman
May 8, 2020
Cast
Maggie: Marci Hughes
Cora: Caroline Price
Stage Directions: Katie Hallman
Alligator
by Hilary Bettis
directed by Cavan Hallman
May 15, 2020
Cast
Emerald: Jo Jordan
Ty/Sasha: Curtis M. Jackson
Merick: Jim Vogt
Dianne: Catherine Blades
Danny: Sage Spiker
Lucy: Ellie Desautels
Rex: Omarr Hatcher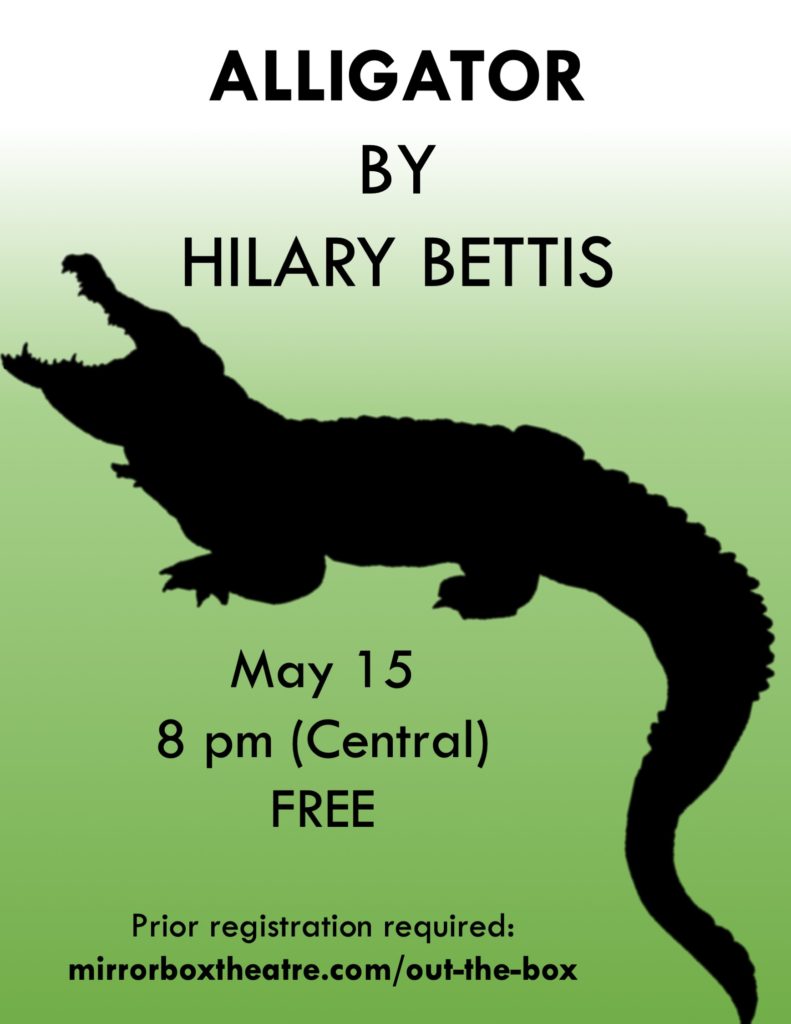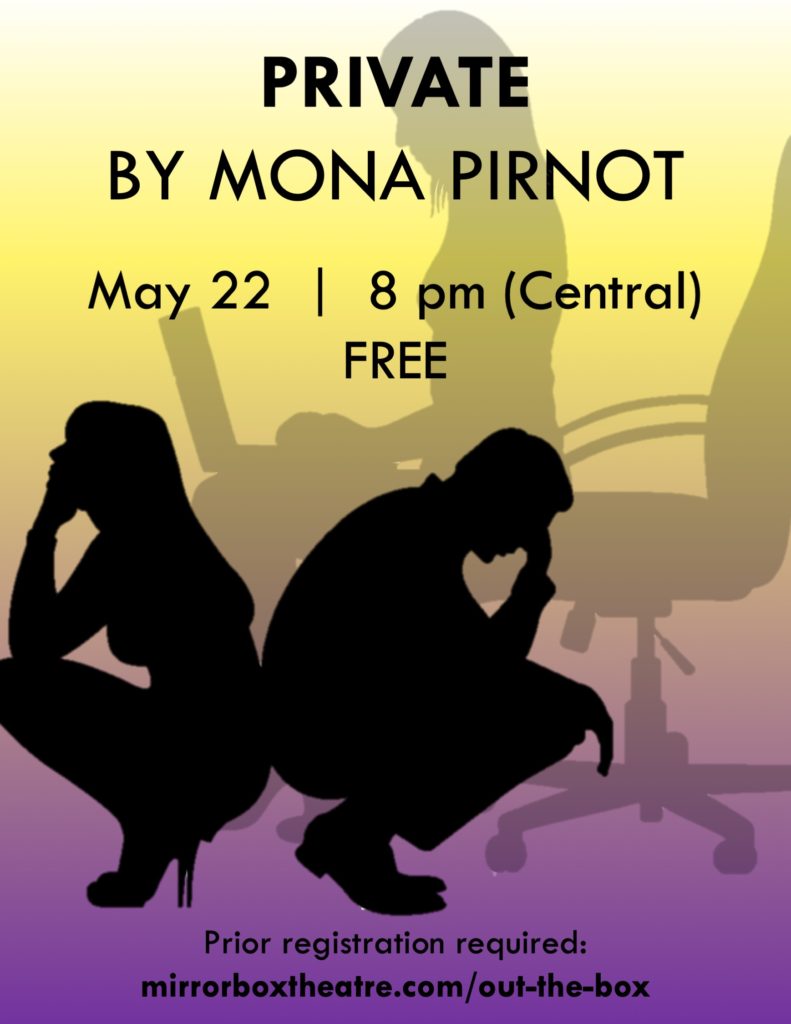 PRIVATE
by Mona Pirnot
directed by Cavan Hallman
May 22, 2020
Cast
Georgia: Zoë Winters
Corbin: Peter Mark Kendall
Abbey: Ferin Bergen
Danny: Aaron Weiner
THE WOODEN HEART
by Adam Szymkowicz
directed by Cavan Hallman
May 29, 2020
Cast
Narrator: CSE Cooney
Mitch: Will Clark
Heather: Tierra Plowden
Brenda: Nandita Shenoy
Janice: Monica R. Harris
Nazario: Dennis Barnett
Ruby: Sophie Lindwall
Harris: Jacob A. Ware
The Wolf/Prin: Travis York
Stage Directions: Katie Hallman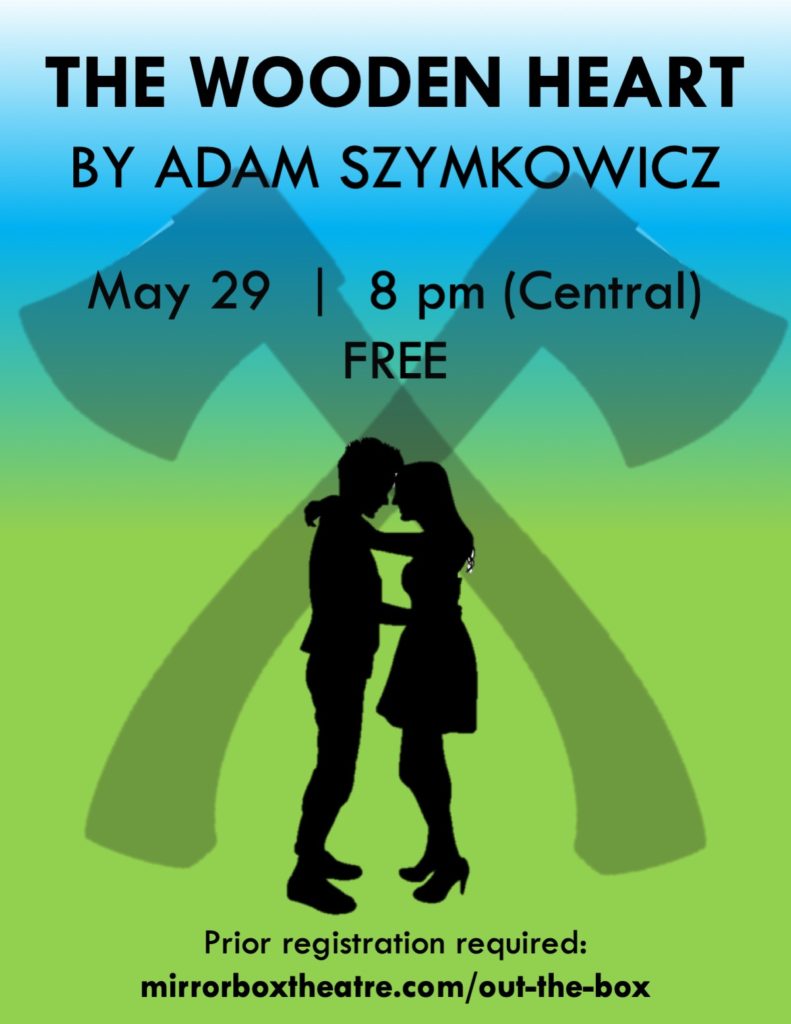 APOLOGIES TO LORRAINE HANSBERRY




(YOU TOO, AUGUST WILSON)
by Rachel Lynett
directed by Curtis M. Jackson
June 19, 2020
Cast
Izaak: Aaron Reese Boseman
Lorenzo: Justin James Farley
Jules: Lawryn LaCroix
Yael: Yvette Quintero
Alice: Sara Williams
Stage Directions: Diviin Huff
STONEWALLIN'
written and directed by
Kari Barclay
June 26, 2020
Cast
Tommy: Ellie Desautels
Marsha: Amani Starnes
Mamaw: Krista Neumann
Elijah: Irie Evans
Stonewall Jackson: Tad Paulson
Stage Directions: ray vanek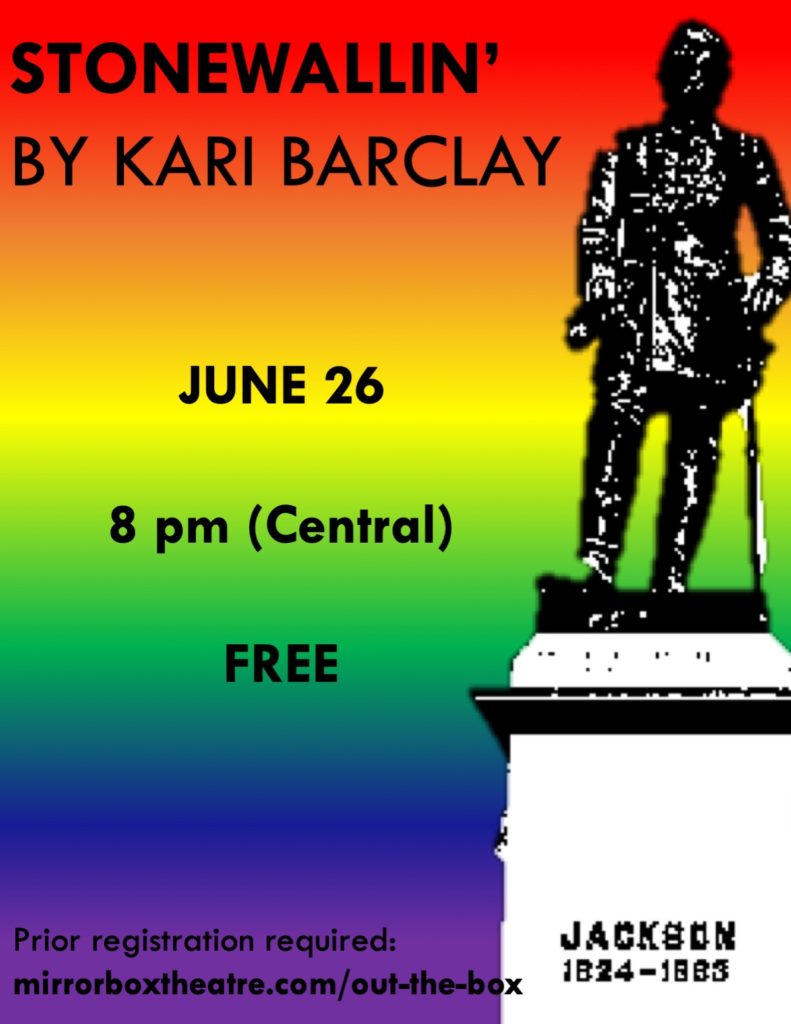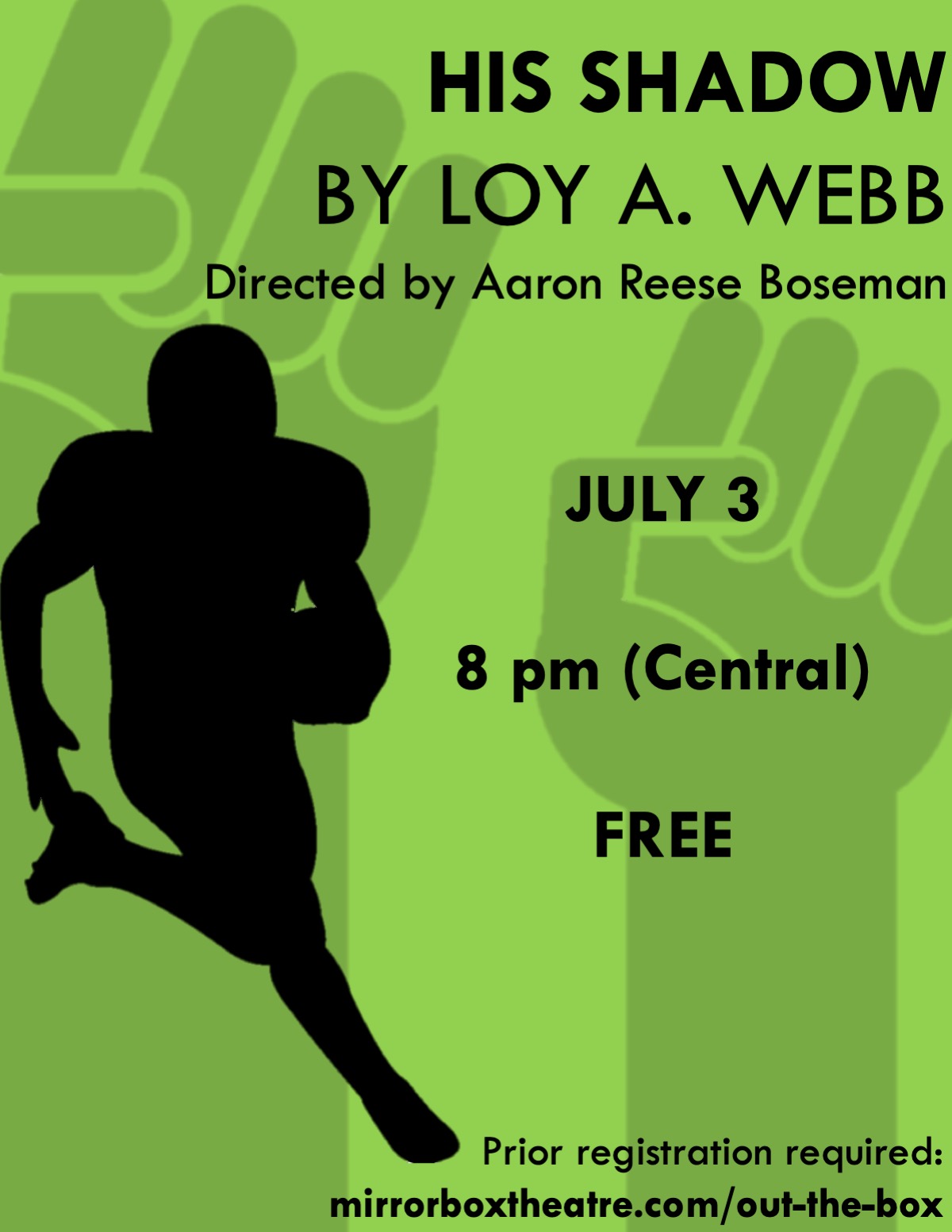 HIS SHADOW
by Loy A. Webb
directed by Aaron Reese Boseman
July 3, 2020
Cast
Teeny: Kai A. Ealy
Various: Camille Robinson
Various: A.D. Weaver
Stage Directions: Tierra Plowden
LISTEN FOR THE LIGHT
by Kara Lee Corthron
directed by Angie Toomsen
July 10, 2020
Cast
Lula: Catherine Blades
Eli: Omarr Hatcher
Joseph: Peter Mark Kendall
Stage Directions: Lisa Kelly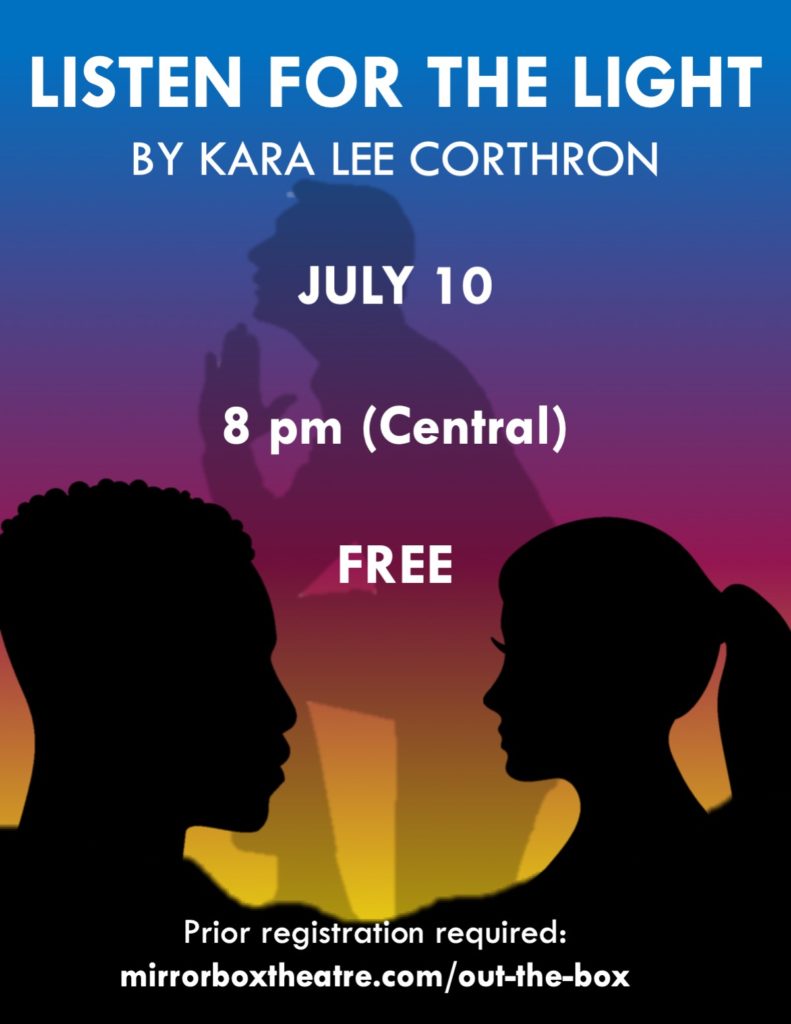 PHAETON
by Patrick Du Laney
directed by Cavan Hallman
July 17, 2020
Cast
Charlotte: Robyn Calhoun
David: Curtis M. Jackson
Paul: Austin Wicke
Katie: Karen Janes Woditsch
Stage Directions: Katie Hallman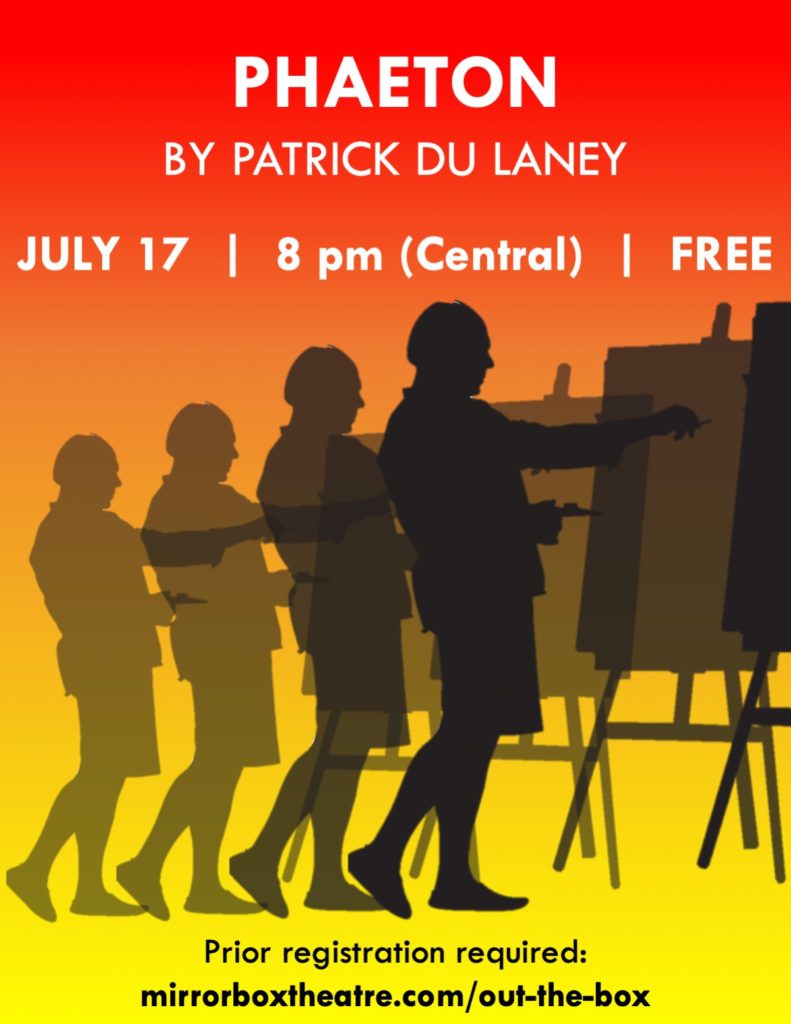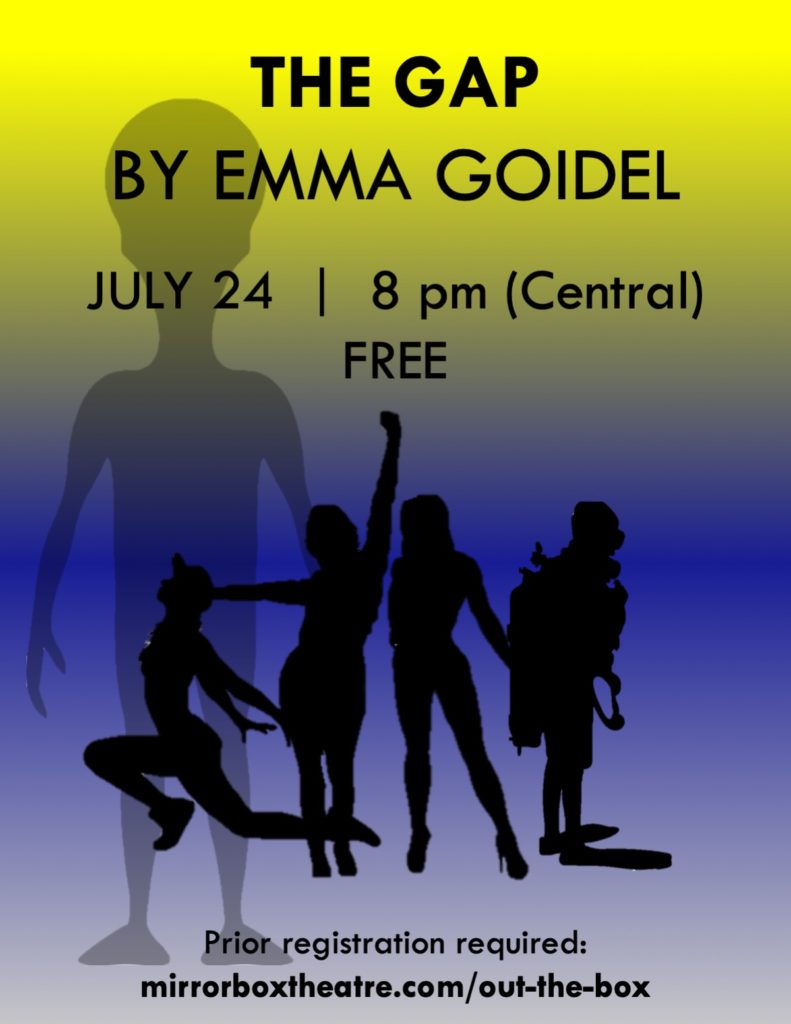 THE GAP
by Emma Goidel
directed by Cavan Hallman
July 24, 2020
Cast

Lee: Molly Carden
Rod/The Alien: Eden Marryshow
Nina: Emmy Palmersheim
Hypnotist/Mom/The Real Lee: Caroline Price
Nicole: Kristin Stokes
Stage Directions: Katie Hallman
THE GREEN BOOK WINE CLUB TRAIN TRIP
by Michelle Tyrene Johnson
directed by Diviin Huff
Friday July 31st, 2020 
Cast
Toni/Henrietta: Britny Horton
Saige/Lucy: Lawryn LaCroix
Lynn/Bertha: Kessha Patton
Marie: Tierra Plowden
Alicia/Cotton Blue: Sara Williams
Stage Directions: Kaami Williams