AUDITIONS
Saturday, February 15
10 am - 2 pm
Groundswell Co-Working Space
201 3rd Ave. SW
Cedar Rapids, IA 52404
Scroll down for full details and character descriptions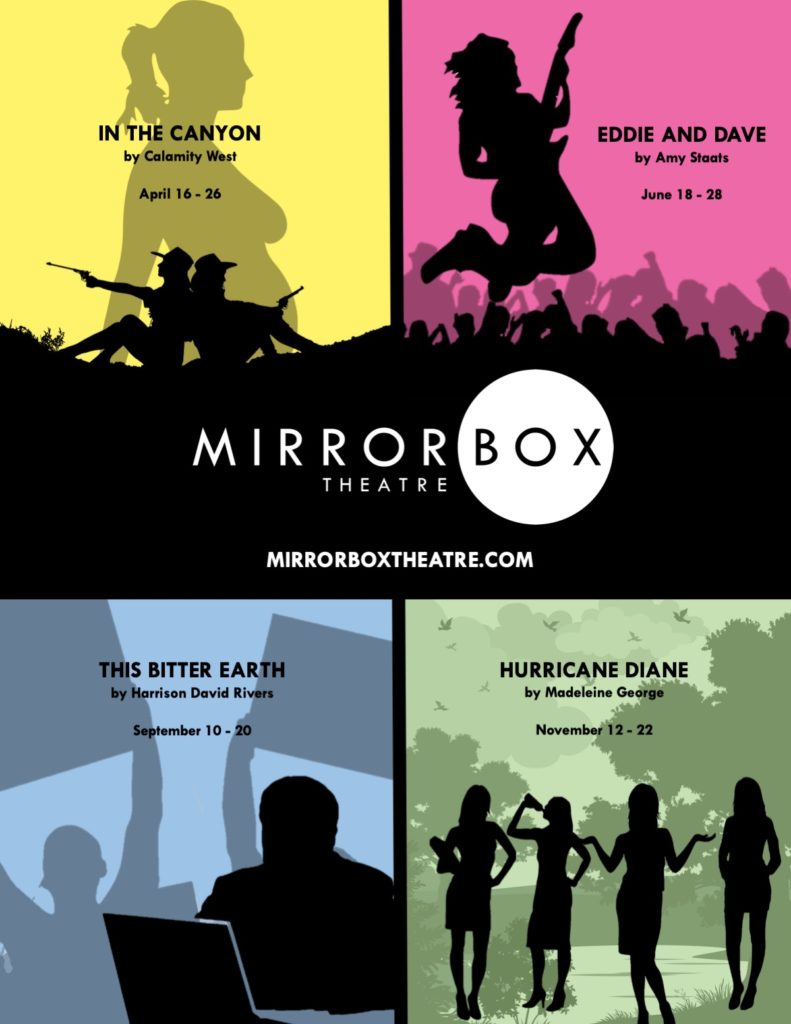 Thank you so much for your interest in our 2020 season!
A general audition for the four plays indicated below will take place on Saturday, February 15, from 10 am to 2 pm. Auditions will take place at Groundswell Co-Working Space, 201 3rd Ave. SW, Cedar Rapids, IA 52404.
We are currently seeking performers across a wide range of identities and abilities, with a special emphasis on actors of color, actors with disabilities, women, trans and gender non-conforming actors, and other members of historically and currently marginalized communities.
There are two ways to audition in person: by preparing a monologue, no longer than 90 seconds, from a contemporary play. OR… You may choose to read a selection from one of the season plays. Sides will be available at the audition. Due to copyright restrictions, the scripts will not be made available prior to auditions. Auditioners will be seen on a first-come basis, and some performers may be asked to stay to read for specific roles. If you require special accommodations in order to audition in person, please contact mirrorboxtheatre@gmail.com as soon as possible.
Video submissions will be accepted until 11:59 pm on Sunday, February 16. For video auditions, please prepare a monologue, no longer than 90 seconds, from a contemporary play, and send a YouTube or Vimeo link of your audition to mirrorboxtheatre@gmail.com. Do not send files directly, as they will not be opened.
Rehearsals for Mirrorbox shows are generally between 6 pm and 10 pm on weeknights, with longer rehearsals on the weekends. All rehearsals and performances will take place at CSPS Hall in Cedar Rapids. All performers will receive a stipend, as well as four "tickets" to our invited dress rehearsal. Please come prepared to list all potential conflicts for the shows in which you are interested.
Where a role has already been cast, this is indicated in the character breakdown. We are committed to meeting as many members of our community as possible in consideration for these productions. However, please note that Mirrorbox Theatre reserves the right to complete casting through any means necessary, including but not limited to, making direct offers to performers and holding additional auditions.
When possible, character descriptions have been taken from the scripts themselves. If you have any additional questions, please don't hesitate to contact us at mirroroboxtheatre@gmail.com.
-----
In the Canyon
by Calamity West
Directed by Cavan Hallman
Rehearsals: March 28 – April 15
Shows: April 16 – 26
Thurs. – Sat at 7:30 pm; Sunday April 26 at 2:30 pm
In the Canyon is a new American saga by Calamity West, spanning from 2007 to 2067. In an exploration on the present attack on abortion, this Iowa premiere imagines a broken society rapidly declining into a future world set in the rocks and walls of a canyon where a story of resistance is birthed.
Seeking:
ACTOR ONE: Female, Early 20s, Multiple Characters, Sweet (Mostly)
ACTOR TWO: Female, Late 20s- Early 30s, Writer, Hard exterior but capable of melting
ACTOR THREE:  Male, Late 20s-Early 30s, Multiple Characters, More confident than he should be
ACTOR FOUR:  Female, Plays early 20's to early 50s, Driven by faith and an intense sense of justice, Obsessed with cinema
ACTOR FIVE: Female, 40s–50s, Multiple characters, Only shows the tip of the iceberg, Capable of leading a rebellion
ACTOR SIX: Female, Late 20s-Early 30s, Multiple characters, Struggling with identity
ACTOR SEVEN:  This role has been cast. Male, 50s, Multiple characters
ACTOR EIGHT: Male, 30s, Tender and devoted
--------
Eddie and Dave
by Amy Staats
Director TBD
Rehearsals: May 30 – June 17
Shows: June 18 – 28
Thurs. – Sat at 7:30 pm; Sunday June 28 at 2:30 pm
Eddie and Dave is a gender-bending new play by Amy Staats about hubris, friendship, family, fame, musical genius and what happens when the person you need is the one you find most irritating. Some plays examine the deepest questions of life. This is the play that asks: "What the !@#$ happened to Van Halen at the 1996 VMA's?"
Seeking:
MTV VJ: Guides us through play, Plays mid 20s to late 40s, Any gender
EDDIE: Shy introverted guitar genius, Ability to play 20s-50s, Played by a female
ALEX: Tough, Funny, Charismatic, Ability to play 20s-50s, Played by a female
DAVID: Verbose, Opportunistic; Ability to play 20s-50s, Played by a female
VALERIE: Pretty, Practical, Fun-loving sit-com star, Ability to play 20s-40s, Played by a male
--------
This Bitter Earth
by Harrison David Rivers
Director TBD
Rehearsals: August 22 – September 9
Shows: September 10 – 20
Thurs. – Sat at 7:30 pm; Sunday September 20 at 2:30 pm
A protest brought them together. But now, as his white lover, a Black Lives Matter activist, immerses himself in the struggle, Jesse, a black man, must confront his own political apathy or risk his rights and their love. This gripping and intimate new play asks what is the real cost of standing on the sidelines?
JESSE HOWARD: Late 20s-early 30s, Hyper-aware of his body – not in a productive way. Serious, passionate, black. He wields his wit like a weapon. A playwright.
NEIL FINLEY-DARDEN: Late 20s-early 30s Disarmingly beautiful and completely unaware. Compassionate, privileged, white. He means well. An enthusiast.
-----
Hurricane Diane
by Madeleine George
Directed by Cavan Hallman
Rehearsals: October 24 - November 11
Shows: November 12 - 22
Thurs. – Sat at 7:30 pm; Sunday November 22 at 2:30 pm
Meet Diane, a permaculture gardener dripping with butch charm. She's got supernatural abilities owing to her true identity—the Greek god Dionysus—and she's returned to the modern world to gather mortal followers and restore the Earth to its natural state. Where better to begin than with four housewives in a suburban New Jersey cul-de-sac?
CAROL FLEISCHER: This role has been cast. 30s-40s. Female-identified. Tidy and organized.
PAM ANNUNZIATA: 30s-40s. Female-identified. Bold and loyal.
RENEE SHAPIRO-EPPS: Female-identified. The chic editor of a national magazine.
BETH WANN: 30s. Female-identified. Vulnerable, with a lawn as messy as her recent divorce.
DIANE: 21-3,000 years old. Female-identified or Gender Nonconforming. Called by many names, including Dionysus, Diane is now a lesbian gardener specializing in permaculture, a "butch charm factory."
Subscribe now
Sign up for the Mirrorbox newsletter.