AUDITIONS
AUDITION NOTICE (Non-Equity)
Thursday, July 29th 7:30-9:30PM
TCR – Grandon
102 3rd St. SE
Cedar Rapids, IA 52401
**PLEASE NOTE**
Auditioners must arrive before 7:30. The venue will not be accessible after this point.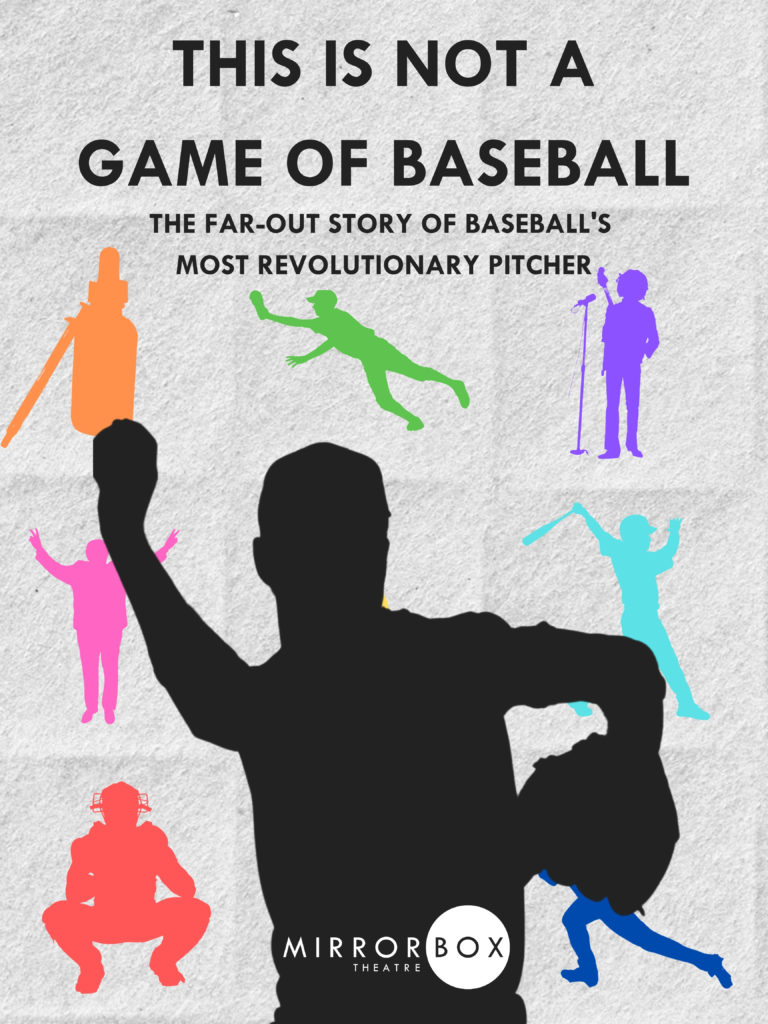 THIS IS NOT A GAME OF BASEBALL
51 years ago, Dock Ellis pitched a no-hitter on LSD. This fall, Mirrorbox presents the world premiere of a brand new play that explores the fascinating life & career of this revolutionary pitcher, once known as the "Muhammad Ali of Baseball."
Written by Cavan Hallman
Directed by Curtis M. Jackson
Rehearsals: Aug. 28th–Sept. 15th
Shows: Sept. 16–26th, 8 Performances, Evenings @ 6 pm, Matinees @ 2 pm
This Is Not A Game of Baseball provides a complex look at the trailblazing former major league pitcher, Dock Ellis. The man's most (in)famous accomplishment becomes a springboard for exploring Ellis' incredible life story, including his eventual turn to sobriety and second career as a life-saving drug counselor. It is a memory play about a man who tragically can barely remember his greatest professional feat.
Dock Ellis was an outspoken advocate for social justice and personal expression. He was an All-Star, a World Series Champion, celebrated by Jackie Robinson for his anti-racism work, but his cultural legacy has been reduced to a single novelty.
This Is Not a Game of Baseball reclaims and celebrates his legacy, in its full human scope, as Dock is surrounded by his Hall of Fame teammates including special appearances by icons of the 60's and 70's.
Seeking:
DOCK ELLIS
Black man; pitcher; wildly talented, both on the field and as a storyteller
JERRY MAY -- and -- NAOMI ELLIS
white man; catcher; a little befuddled – and – Black woman, self-possessed business owner; Dock's mother
AL OLIVER – and -- SANDRA ELLIS
Black man; first baseman; often a peacemaker – and – Black woman; Dock's sister
BILL MAZEROSKI – and -- DAVE CASH
white man; old-school second baseman on his way to Hall of Fame – and Black man; rookie second baseman
BOB ROBERTSON
white man; even-keeled third baseman; has known Dock since minor leagues
GENE ALLEY – and -- MITZI
white man; shortstop; defensive-minded – and – woman; down to party
ROBERTO CLEMENTE – and -- PAULA ELLIS
Afro-Latinx man; all-time great right-fielder; humanitarian – and – Black woman; former athlete; married Dock as a teenager
MATTY ALOU
Latinx man; center-fielder; intellectual, a future manager
WILLIE STARGELL – and -- CHET BREWER
Black man; gargantuan Hall of Fame right fielder; the team's glue, known as "Pops" – and –  Black man, former all-time great pitcher in the Negro Leagues; a nurturing coach at the edge of old-age
JIMI HENDRIX/TIMOTHY LEARY/BILL/DANNY MURTAUGH/FAN
various characters, including the world's largest advocate for LSD
PADRE
one performer to play the all San Diego Padres (plus a couple others); combative
UMPIRE
bears a striking resemblance to Richard Nixon
ANNOUNCER (Pre-recorded)
We are currently seeking performers across a wide range of identities & abilities with a special emphasis on actors of color, actors with disabilities, women, trans, gender non-conforming actors and other members of historically & currently marginalized communities.
This play will feature a diverse cast, with an emphasis on including performers with identities and abilities that do not match the historical characters.
Rehearsals are generally between 6-10PM on weeknights, with longer rehearsals on the weekends. All rehearsals and performances will take place in the Cedar Rapids metro area. All performers will receive a stipend, as well as four "tickets" to our invited dress rehearsal.
Auditions will be run as an ensemble performance workshop. Please arrive no later than 7:15PM and expect to stay through 9:30PM. **Wear comfortable clothing, you'll be physically moving! You will have an opportunity to audition with one monologue of your choosing (preferred). Sides from the play will also be available at the audition site.
To sign up for the audition, submit a headshot/picture and a list of all potential conflicts to mirrorboxtheatre@gmail.com prior to July 29th. If you have a resume, that will also be gladly accepted.
We are committed to meeting as many members of our community as possible in consideration for this production. However, please note Mirrorbox Theatre reserves the right to complete casting through any means necessary, including but not limited to, making direct offers to performers and holding additional auditions.
Covid-19 Related Information
Safety is of upmost importance to this production.
All cast members will be asked to provide proof of vaccination prior to August 21st. Should there be a health condition or a religious opposition that prevents one from getting a vaccine, the cast member should contact the producer directly at mirrorboxtheatre@gmail.com.
This production will rehearse both indoors and outdoors, prior to outdoor performances. Should a performer receive a vaccine exemption due to health or a religious opposition, those performers will be required to wear masks during rehearsal.
All audition participants will wear masks.
The production reserves the right to update these policies in accordance with changing guidance from national and local agencies.
If you have any additional questions, please don't hesitate to contact us at mirrorboxtheatre@gmail.com.
Subscribe now
Sign up for the Mirrorbox newsletter.