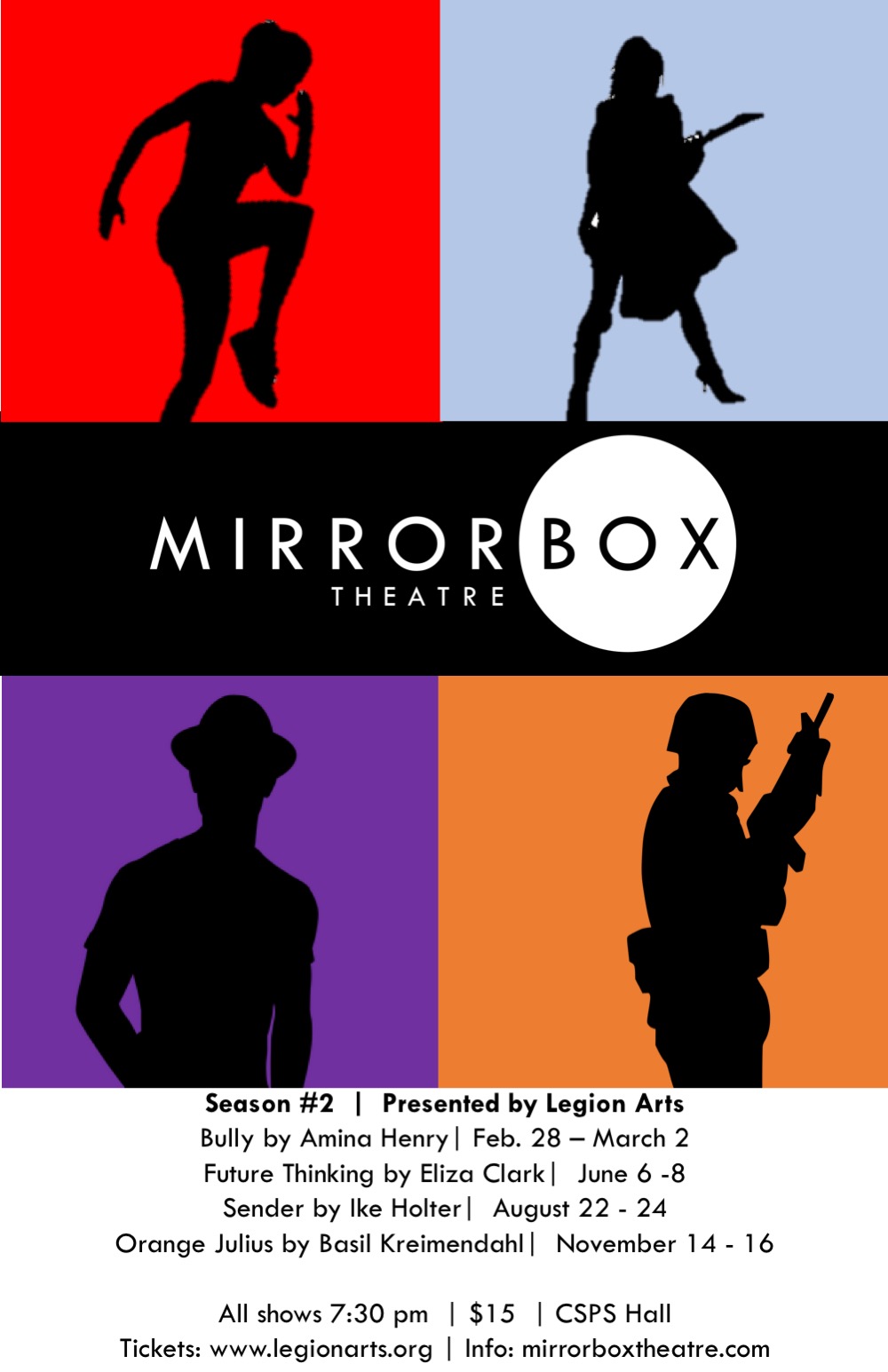 What We Do
Mirrorbox produces Iowa-premiere plays as dramatic reflections on contemporary culture. The company embraces practical theatricality within an intimate setting, illuminating new thinking through new writing that is relevant to our modern lives.
Our inaugural season consisted of four plays by writers on the forefront of contemporary drama: Exit Strategy by Ike Holter; Red Speedo by Lucas Hnath; Luna Gale by Rebecca Gilman; There Is A Happiness That Morning Is by Mickle Maher.
Season 2 includes Bully by Amina Henry, Future Thinking by Eliza Clark, Sender by Ike Holter, and Orange Julius by Basil Kreimendahl.
Who We Are
Cavan Hallman
Artistic Director
Cavan Hallman's writing has been performed in NYC, New Orleans, Chicago, Ireland, on screen, and on tour with the Windy City Players. His touring plays, which he also directs, have been performed over 20,000 times for nearly 5 million students across the United States. Cavan directed the world premiere of the musical Pictures of Marilyn at the National WWII Museum, named one of the ten best musicals of 2016 by The New Orleans Times-Picayune.
He recently directed the Iowa premieres of Exit Strategy, Red Speedo, Luna Gale, and There Is A Happiness That Morning Is for Mirrorbox Theatre at CSPS. In Cedar Rapids he has directed for Playtime Poppy's Summer Theatre Adventure; performed his solo show at RAYGUN, and worked as a writer and performer for SPT's Tales From the Writer's Room. 
Cavan is a Resident Artist with The CRY HAVOC Company, and the Artistic Director for Mirrorbox Theatre. He has an MFA in Playwriting from the University of New Orleans, for whom he has also taught writing and acting, both on campus and for their study abroad program in Ireland. The only things he likes more than the Orlando Magic and the play Fences are his son, his dog, Pearl, and his wife, Katie, who deserves endless thanks for her intelligence, love, and support.
---
Jaime Hein
Company Manager

Jaime Hein has many credits on and off stage, including stage management for two seasons of Theatre Cedar Rapids' Underground New Play Festival. For Mirrorbox, Jaime has Stage Managed Exit Strategy, Luna Gale, There Is A Happiness…, Bully, and Future Thinking. Other work at TCR includes serving as Assistant Director and Stage Manager for Dead Man's Cell Phone & The Bully Plays. Jaime was Assistant Stage Manager for Apples in Winter at Riverside Theatre. When not hanging around the theatre scene Jaime is working full time at ESP International and taking care of her favorite dog, Dudley.
---
Past Productions
Exit Strategy
by Ike Holter
April 5-7, 2018
Red Speedo
by Lucas Hnath
May 24-26, 2018
Luna Gale
by Rebecca Gilman
April 5-7, 2018
There Is a Happiness That Morning Is
by Mickle Maher
May 24-26, 2018
Bully
by Amina Henry
February 28 – March 2, 2019